Monday, November 19, 2018
Pilot Episode Features Discussion on Improvements to Veterans Health Care
As part of its Next-Level branding campaign, the University of Arizona College of Medicine – Phoenix has launched a podcast, reimagine Medicine, which features innovation in medical education, clinical care and research.
Each month, listeners will hear from clinicians, scientists, educators, health care leaders and medical students, who will share their experiences in improving health care and finding breakthroughs in systems and patient care.
"We are excited to showcase the amazing stories of our researchers and medical school through rich discussions," said Allison Otu, senior director of Marketing and Communications at the UA College of Medicine – Phoenix. "We wanted to join this medium because our students, faculty and staff are podcast listeners. We are excited to invite the general public and the academic medicine community throughout the country to tune in and hear first-hand how we continue to reimagine medicine."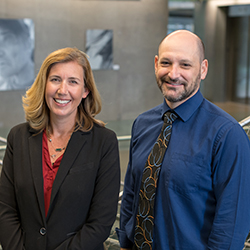 The podcasts are hosted by Jonathan Lifshitz, PhD, director of the Translational Neurotrauma Research Program at the UA College of Medicine – Phoenix and Barrow Neurological Institute at Phoenix Children's Hospital, and Katie Brite, MD, co-director of the medical school's Family, Community and Preventive Medicine clerkship. C. Luke Peterson, DO, a clinical assistant professor in the college's Department of Family, Community and Preventive Medicine, is the narrator.
"I am thrilled to work with Dr. Brite on this exciting project," Dr. Lifshitz said. "Together, we have the honor to represent the ground-breaking advancements at the college and throughout Phoenix. We look forward to exploring topics in medicine from the point of view of health care delivery, research, education and patient perspectives."
"Advancing Veterans' Health," the pilot episode, was released on Veterans Day. It features discussions about system improvements the Phoenix Veterans Affairs Health Care System has implemented in order to enhance early diagnosis, intervention and treatment.
Participants for the debut podcast are:
Michelle Dorsey, MD, chief of radiology and clinical assistant professor in the Department of Radiology at the Phoenix VA. Dr. Dorsey was selected as the first physician to represent the Department of Veterans Affairs as a White House Fellow with the White House Leadership Development Program.
Clement Singarajah, MD, internist who leads the VA's Intensive Care Unit. He is a leader in medical and resident education and has been positively impacting the training of future physicians in Arizona throughout his career.
Colan Kennelly, MD, a primary care physician at the VA who graduated from the UA College of Medicine – Tucson. He is a scholarly project mentor at the College of Medicine – Phoenix.
Haroon (Aaron) Kisana, an MD candidate in the Class of 2021 at the College of Medicine – Phoenix. Kisana has volunteered with the VA since he was 14 years old. His scholarly project focuses on communicating with high-risk patients after they are released from the VA so that they will not have to be re-admitted.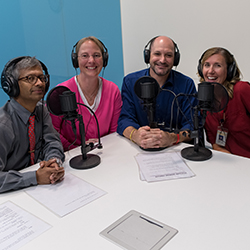 "We don't need a piano or a waterfall in our lobby, but we need to make our veterans feel special," Dr. Dorsey said, regarding how the VA has stepped up its treatment of veterans who seek health care. "We put the patients first in everything we do."
Dr. Singarajah said care at the VA has changed from a paternalistic approach, where "the doctor knows best," to a team approach where physicians and other health professionals work as partners with each patient and take an "active listening" role, giving them time to explain their health needs.
The new emphasis is on preventive care, said Dr. Kennelly, adding that the VA is trying to remove barriers for specialty services such as mammograms, eye exams, diabetic foot checks and nutrition services, allowing patients to schedule appointments without a doctor's order.
"We are breaking down walls to improve the delivery of health care," he said.
Dr. Lifshitz said the podcast will continually improve the format and dialogue. "Early feedback has been positive," he said, "and indicated that we're having a good time while providing a media channel to showcase the mission and vision of the college."
December's podcast, "Not So Happy Holidays," will post on Dec. 11. It will feature guests Lizy Windsor, MS, RN, clinical simulation nurse at the College of Medicine – Phoenix; Kristen Ray, D.BH, LPC, vice president of behavioral health at Bayless Integrated Healthcare; and Gina Touch-Mercer, PhD, director of the behavioral sciences theme at the College of Medicine – Phoenix.
The discussion will center on holiday depression, anxiety and loneliness, and how clinicians and caregivers can help their patients and families through a stressful time. It also will offer suggestions on how clinicians can keep their own holiday spirit positive.
Categories