Medical Students compete in Ironman and Bike-A-Thon to Support Fellow Student's Brother
Already busy with the demands of medical school, three medical students at the University of Arizona College of Medicine – Phoenix are raising funds to support the Leukemia and Lymphoma Society (LLS) by competing in the AZ Ironman 70.3 and biking 715 miles in 5,960 minutes.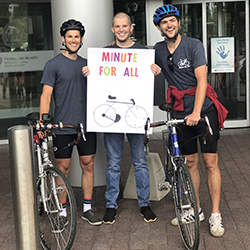 After second-year medical student Ben Conner's brother was diagnosed with leukemia last spring, Conner and his fellow classmates, Andrea Fernandez and Sam Beger, wanted to do something to help.
"Last spring, Casey (Ben's brother) had been experiencing some prolonged cold symptoms," Conner said. "He was a senior at Penn State at the time, and decided to visit the campus health center for a check-up. Abnormal blood results set off alarms with his physician, and he was rushed to Penn State Hershey Medical Center the same day. He called me on his way, a phone call I'll never forget, and I could hear the panic in his voice. Call it optimism or pure denial, but I was not too worried. Casey was healthy and fit, about to graduate college, and had recently returned from a spring break trip abroad. Surely it was some kind of viral infection."
"The next day, we learned the truth. Casey had leukemia."
Casey was diagnosed with acute lymphoblastic leukemia (ALL), a fairly uncommon blood cancer for his age. He was 22 years old. On May 4, 2018, Casey received his first chemotherapy treatment.
"After sitting down with Casey's doctors, I left with a bad taste in my mouth not understanding his diagnosis," Conner said. "I did not understand how one day Casey was a normal college senior about to graduate, and the next he was a patient with cancer. What caused this? I wanted answers. Most of all, I wanted to do something. Sitting on the sidelines while watching my younger brother endure his battle against cancer was something I simply could not do."
Conner realized his biggest contribution could be supporting individuals who are already working to answer the questions he had. He decided to start raising money for the Leukemia and Lymphoma Society, where he knew any money raised would be put toward finding out how this disease and other blood cancers arise, and ultimately, finding a cure.
Conner, Fernandez and Beger pledged a combined $4,000.
"About 174,250 people in the U.S. are expected to be diagnosed with leukemia, lymphoma or myeloma in 2018," Fernandez said. "There is certainly more work to be done in funding research towards a cure for blood cancers. By raising awareness of stories like Casey's, we hope to do our small part to search for a cure and shed light on the amazing communities that support individuals diagnosed with blood cancers."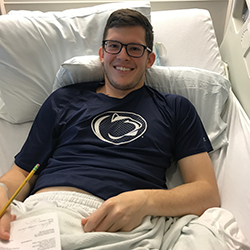 In early October, Conner and Beger biked nine days: 715 miles in 5,960 minutes.
"This was a great way to raise awareness about a very common disease – the most prevalent childhood cancer period," Beger said. "We decided that we would ride one minute for each person who was diagnosed with ALL in 2018. The support we received is a continual reminder that we were doing this for a good reason, and however much we were suffering in the moment, it's not even close to what Casey and these 5,000+ other people are going through."
During their bike trip, they slept in an elementary school (with permission), a fraternity house, and on couches and beds of old and new friends.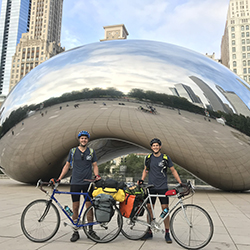 "Our grit was constantly tested by the elements, biking through high humidity, mosquito-infested trails, flood-like conditions and strong headwinds. Some miles went fast, and some were painfully slow," Conner said. "Over and over, however, we were reminded that our one minute of suffering represented a life-changing diagnosis for someone. Importantly, we were able to spread the word for our fundraiser along the way and gain more support. The trip was a great success."
On the road, they met survivors of leukemia, and families and friends affected by the disease, including a survivor on the bicycle trail in Indiana. 
"We ran into a survivor who was wearing a Leukemia and Lymphoma Society shirt and spoke about how they helped her not only through treatment, but also in providing support groups and aiding her in the hour-long transportation back and forth from treatment at her hospital," Beger said. "After hearing this, I was even more happy that we chose the Leukemia and Lymphoma Society."
Their bike trip ended at Penn State Hershey Medical Center, where Casey was being treated. Casey continues to receive treatment there, where he will be a patient for months to come.
"I wanted to give Casey something that would take his mind off his diagnosis and give him something to look forward to," Conner said. "Finishing where Casey was being treated was also meaningful to me. We were able to meet his doctors and medical care team while getting a tour of the hospital. I could tell Casey was happy to have us there."
Conner will again show his support with Fernandez on October 21 by competing in the Arizona Ironman 70.3.
"Ben approached me with the idea of training with the LLS Team in training for the Arizona Ironman 703," Fernandez said. "I thought this was a wonderful idea, since it makes training so much more meaningful knowing it's going towards a cause. The true Ironmen and women are those that receive difficult diagnoses like blood cancer, who find strength and perseverance on a daily basis to cross their own personal finish line. I want to honor in what little ways I can that strength and perseverance."
Taking a break from medical school to train and compete in these activities has not been easy, but the medical students were able to fit it in within their schedules by completing capstones earlier in the week and biking during fall break. In order to keep up with some assignments while on the bike trip, Beger and Conner found areas with Wi-Fi and completed assignments on their phones. They also downloaded audio lectures to study while biking.
"The fundraising support of Ben, Sam, and Andrea for the Leukemia and Lymphoma Society is not surprising to anyone who knows them," said Elaine Niggemann, MD, director of the Hematology/Cardiovascular block. "Their commitment is very meaningful and represents the character and compassion of the future physicians at the UA College of Medicine – Phoenix."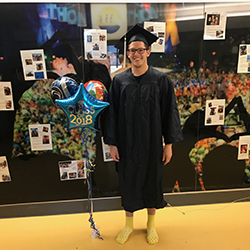 Interested in donating or learning more about the student's journey.
"While I am proud of what I and my friends are doing to raise money and awareness for blood cancers, this is not about us," Conner said. "This is about Casey, and the other 5,959 people diagnosed with ALL this year. This is about all those individuals with blood cancers who are bravely staring their diagnosis in the face. This is to celebrate their strength and do our part in contributing to the search for a cure. I'm also extremely grateful to have friends like Sam and Andrea who agreed to go on this journey with me. I could not do it without them."
Categories