Thursday, October 18, 2018
Dr. Vicki Sein starts new career at Banner Thunderbird Medical Center.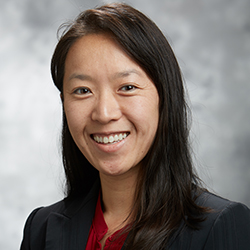 "It is the most amazing feeling to finally become what you wanted to be your entire life," said Vicki Sein, MD, a graduate from the Class of 2011 at the University of Arizona College of Medicine – Phoenix.
Dr. Sein is beginning a new journey in her medical career as a trauma surgeon at Banner Thunderbird Medical Center in Phoenix.
As a trauma surgeon, Dr. Sein specializes in taking care of the critically ill, from shooting victims to high-speed motor vehicle accidents. On a bad trauma day, she typically sees two to three cases and on days she is not on call, she performs elective general care surgery.
"I feel like trauma surgery chose me," she said. "I've always loved surgery so that was without question what I wanted to do when I finished medical school. I loved everything, and trauma is something that let me do it all."
Dr. Sein recently finished a fellowship at Massachusetts General Hospital in Surgical Critical Care and Acute Care Surgery. As part of her fellowship, Dr. Sein spent a month in Johannesburg, South Africa's biggest city and one of the busiest trauma units in the world. She recalled one night where the team treated 36 penetrating chest injuries in six hours.
"It was such an eye-opening experience for me," Dr. Sein said. "It gave me a good perspective on disaster management triage. It's not something you learn much about in the states."
Dr. Sein was a member of the first graduating class from the UA College of Medicine – Phoenix in 2011. She liked the idea of attending a new medical school that didn't have its own traditions yet, and felt it was an ability to be part of something new.
When looking back at medical school, she said there was not one particular moment she recalls as her favorite, but more of a collective experience that included celebrating with classmates on Match Day and their first encounter with patients.
She advises current and future students to stay strong in medical school and to not get discouraged.
"It's hard coming out of college and feeling like you are the best at everything and then you hit medical school," Dr. Sein said. "It can be really discouraging, but know that everyone is going through the same thing and that there is a light at the end of the tunnel. As much as it is overwhelming, it is doable. Just take a step back and breathe."
After medical school, Dr. Sein practiced at the college's residency program at Banner – University Medical Center Phoenix until 2016.
"Residency taught me that every patient has something to teach you, no matter how you see that interaction at the time," she said. "It's up to you to find that with every interaction."
Dr. Sein grew up in Prescott, Arizona, where both parents worked as physicians. Medicine feels like their trade, she said, and she can't see herself doing anything else.
"It's my true calling," she said. "As a physician, our job is to help people no matter their background. You need to be there for the patient, not the situation. This is really why I love my job. It doesn't matter who you are or what you've done with your life, trauma effects people from all backgrounds. One of my favorite parts of being a trauma surgeon is never knowing who is coming through that door next."
Dr. Sein began her new position at Banner Thunderbird Medical Center in September 2018.
Categories