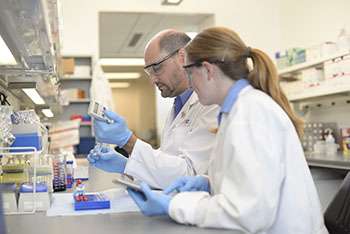 The Translational Neurotrauma Research Program represents one research pillar within the Department of Child Health at the University of Arizona, College of Medicine – Phoenix. The program stems from institutional agreements with BARROW Neurological Institute at Phoenix Children's Hospital, in collaboration with the Phoenix Veterans Administration Health Care System.
The program operates with the vision to be the destination for Neurotrauma research, education, training and clinical care, which will improve the quality of life of those with acquired neurological injury.
Overview:
Conduct hypothesis-driven, peer-reviewed research, while providing Socratic educational opportunities in a collaborative, partnership-driven environment. Our efforts are measured by their impact on improving health care delivery.
Research Excellence:

Focus on reorganization, regeneration and restoration of neural circuits damaged in the wake of acquired neurological injury to improve clinically-relevant outcomes;
Generate novel and forward-thinking hypotheses to address key questions based on clinical and laboratory observations;
Execute specific aims to test hypotheses using quantifiable protocols, advanced technology and strategic collaborations;
Communicate results to the scientific and lay communities with clarity through publications and presentations.

Comprehensive Education:

Train scientists, clinicians and clinician-scientists (at every level) in the art of scientific discovery toward meaningful interventions for acquired neurological injury;
Lead local and national communities in education and outreach related to understanding, diagnosis, prognosis, treatment and quality of life for acquired neurological injury;
Be life-long learners in the subject matter, technical skills and marketing of our work.

Clinical and Community Partnerships:

Integrate with clinical partners and health care providers to translate knowledge, interventions and devices that empower clinical algorithms to improve health care;
Lead the development and advance the progress of programs to improve the health care delivery to and quality of life for those with acquired neurological injury;
Engage in complementary research programs that advance basic understanding and clinical treatment of acquired neurological injury.