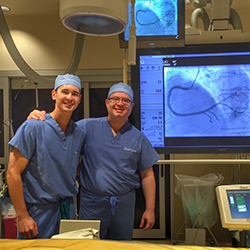 Certificates of Distinction are offered to students as optional advanced medical preparation opportunities with specialization in specific areas of service. Students may pursue one Certificate of Distinction during their undergraduate medical education at the University of Arizona College of Medicine - Phoenix. Students who successfully meet the certificate requirements will receive a Certificate, a "Distinction in [area of service]" notation on their transcript and medical student performance evaluations (Dean's Letters). 
The Global Health Program introduces students to health care service under the constraints of a developing nation. By sharing their knowledge and learning from colleagues abroad, students return to Arizona better prepared to provide care to patients and communities on the domestic scale. Through this program, students are eligible to earn a Global Health Certificate of Distinction, which consists of five educational components, including: externships, courses, participation in seminars, a scholarly project and a preceptorship abroad.
 
The Rural Health Professions Program (RHPP) Certificate of Distinction recognizes students who demonstrate a strong commitment to future rural medical practice. Students who participate in this program experience unique clinical exposure and a broad scope of practice outside the norms of their general clinical surroundings. RHPP is aimed at those with a genuine interest in rural health, whether that be through prior background or a desire to spread their knowledge to an area in need. Students accepted to the program undertake four years of preparation that includes seminars, mentorship, rural clerkship and pre-clerkship clinical experience, among others. 
 
The Service and Community Health Certificate of Distinction is intended to increase familiarity with underserved patient populations in the urban setting and to enhance student involvement within the Phoenix community. As a program dedicated to the creation of community-responsive physicians, it offers participants additional opportunities for mentorship, community service and scholarly work. Students who pursue this certificate of distinction will be prepared to address the many unique factors which affect the health and well-being of underserved populations and will be recognized for their commitment and devotion to service.