Our program is a one-year fellowship that is accredited by the Accreditation Council for Graduate Medical Education (ACGME).
As a fellow, you will learn to become a highly skilled and competent sleep specialist in patient care and polysomnogram interpretation.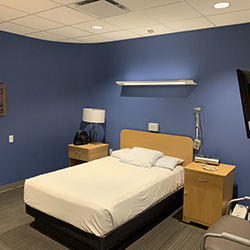 We have three main clinical sites, which include:
Banner – University Medical Center Phoenix is a six-bed sleep laboratory, which was recently renovated in 2019.
The Carl T Hayden VA Medical Center is a three-bed sleep laboratory. It also offers a dedicated CPAP clinic, an active non-invasive ventilation practice and over 40 home sleep study units.
Banner Desert Medical Center — which is associated with Cardon Children's Hospital — is our pediatric site and is an eight-bed sleep laboratory where our pediatric patients are evaluated.
We conduct various sleep testing in our sleep laboratories, including the following:
Diagnostic polysomnograms.
Split polysomnograms.
Titration studies (CPAP, Bilevel PAP +/- ST mode, ASV, iVAPs, AVAPS).
Specialized protocols (REM sleep behavior disorder, EEG protocol, tracheostomy patients, bariatric patients over 800+ lbs).
We have specialized clinics including:
Cognitive behavioral therapy for insomnia.
ALS clinic for management of noninvasive ventilation.
PAP desensitization.
Research opportunities will be available at all three sites.
All sites also have home sleep testing capabilities. This is where patients will be evaluated in sleep medicine outpatient clinics.
The complex array of sleep disorders and diversity in patient demographics is a highlight of our program.
As a fellow, you will see and evaluate multiple sleep disorders that make you a comprehensive and well-rounded sleep expert.
In addition, throughout your fellowship, you will have one-on-one faculty mentoring and supervision.