Educational Programs
Medical Student Education
One of the unique features of our new medical school curriculum is a significant focus on instruction in Biomedical Informatics topics, consisting of over 45 hours of required sequenced and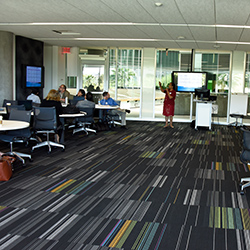 integrated instruction. More information on The Evolution of a Novel Biomedical Informatics Curriculum for Medical Students.
Clinical Informatics Fellowship
In February 2015, the two-year Clinical Informatics Fellowship Program, sponsored by Banner – University Medical Center Phoenix received accreditation from the American Council on Graduate Medical Education. The fellowship was launched in July 2015 with two physician fellows in the first program cohort.
The fellowship offers a wide variety of community-based rotations at Dignity Health, Valleywise Health (formerly Maricopa Integrated Health System), Phoenix Children's Hospital, Arizona Health Care Cost Containment System (AHCCCS) and HonorHealth, as well as the Phoenix VA Health Care System and the Wesley Community and Health Center. Fellows have the option to gain exposure and work on a wide variety of EHR systems, including Allscripts, Cerner and Epic. Upon successful completion of the fellowship, fellows will be board eligible candidates to sit for the clinical informatics subspecialty board examination.
A component of the fellowship includes online enrollment at Arizona State University College of Health Solutions.
Overview of the Two-Year Clinical Informatics Fellowship.
Clinical Informatics Grand Rounds
Every third Wednesday of the month — from 8:00 to 9:00 a.m. — we bring in local leaders and researchers in informatics to address current trends and directions that can potentially impact health care delivery. Our *Grand Rounds are presented throughout the year.
*Locations may vary.
Interprofessional Education
Informatics is a highly interdisciplinary field, and the Department of Biomedical Informatics is pleased to have faculty members from a range of disciplines, including Library Science, Nursing, Pharmacy, Physician Assistant and Public Health programs.