Interested in LIFT?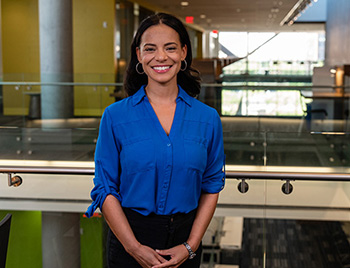 If this program interests you, please submit to our LIFT Interest Form.
Program Overview
Mentoring is a critical component to the career advancement of our faculty. The Office of Faculty Affairs and Career Development advises all faculty — particularly junior and mid-level faculty — to seek out opportunities for mentorship wherever they can. Many departments at the UA College of Medicine – Phoenix have active mentoring programs for their members, and we advise faculty to begin their search there or by speaking to their department chair or department faculty coordinator
The Office of Faculty Affairs and Career Development at the College of Medicine – Phoenix is committed to developing a vibrant, engaged and empowered community of faculty who have access to programs that inspire and enrich their professional growth and development. Leading and Inspiring Faculty Trajectories (LIFT) is a college-level early and mid-career peer faculty mentoring program designed to supplement and complement mentoring activities at the department level — while simultaneously equipping faculty with the resources, tools and networks of like-minded colleagues needed to thrive in academic medicine. The optimal goal of the program is to take a deep dive into the professorial promotion process while touching on other overall topics related to career advancement for physician and basic science researchers.
LIFT is a facilitated, cohort-based program derived from modern, evidence-based mentoring practices and literature with the aim of enhancing faculty vitality through efficient access to peer mentoring opportunities, resources and events across a broad spectrum of career development topics (Fleming et al., 2016).
Due to the ongoing COVID-19 pandemic, this year's LIFT program will primarily utilize Zoom videoconferencing to provide a series of structured online lectures and workshops throughout the year. However, we may offer some sessions in-person. Below is the current schedule for the 2022 LIFT program (subject to change as we finalize the program).
Schedule
Month

Core Lecture Topic and Hands-on Workshop

January 2022
(In-Person)

Part I: Welcome-Orientation of Program and Expectations + An Academic Career in the Phoenix Context

Timelines when planning for promotion.
Levels of professorial review to expect.

Part II: Faculty Panelist – What Success Could Look Like!

January 2022

*Your Letters and CV Documentation and Planning Do's and Don'ts

Small peer group CV and "list of names" workshop.

Zoom with facilitated small group breakouts.

*Virtual Zoom live with recording available. 

February and March 2022

Teaching, Clinical and Service Portfolios

Clinical portfolio workshop (A).
Teaching portfolio workshop (B).
Service Portfolio workshop (C).

Zoom with facilitated small group break outs.

March and April 2022

Academic, Clinical and Social Resilience with Guest National Speaker: Jennifer Hunt, MD

Deconstructing imposter phenomena support workshop.

April: In-person with mid-point check-in.

May 2022
Engagement with Leadership, Faculty and Trainees from a Lens of Diversity, Equity and Inclusion for a Culture of Cohesion and Advancement 
June 2022
The Impact of Intersectionality on Promotion and Engagement
August 2022

Mindset and Expectations for the Candidate Statement

Statement workshop.

Zoom with facilitated small group break outs.

September 2022
(In-Person)

Part I: Time, Space, Personnel, Salary: The Negotiation Mindset

Part II: Closing and Awarding of Certificates 
The 2022 LIFT Program will launch in January 2022 and conclude in September 2022. All UArizona college of Medicine – Phoenix faculty holding an Assistant or Associate Professor title, who are ready to go through the promotion process within the next two-three years, can fill out the LIFT interest Form to be considered for our next cohort. For questions, please contact @email.
Program Goals
To provide supplemental mentoring opportunities and resources to junior and mid-level faculty of the College of Medicine – Phoenix.
Expand participants' professional networks to include affiliates and outside disciplines.
To advance the professional goals of the mentees.
Expose faculty to a peer group mentoring dynamic.
Program Model
Nine-month program cycle.
Cohort-based.
Peer-mentoring groups empowered by college-level resources.
2020-2021 LIFT Cohort
Diane Hindman, MD, PharmD.
2019-2020 LIFT Cohort
Congratulations to the 2019-2020 cohort of LIFT Faculty Mentoring Program for completing the program!
Kendall Novoa-Takara, MD.
2017-2018 LIFT Cohort
Congratulations to the 2017-2018 cohort of LIFT Faculty Mentoring Program for completing the program!
Shaghayegh Abdollahi, MD.
Clairmar Borrero-Mejias, MD.
Jennifer Hartmark-Hill, MD.
Thank You to Our Past Mentors!
Michael Grossman, MD, MACP.
Linda R. Nelson, MD, PhD.