Overview
---
Our lab group focuses primarily on translational research involving cardiovascular and cerebrovascular diseases, which are the leading causes of morbidity and mortality worldwide. The overall goal of our research is to discover mechanisms and causes of disease in order to develop new approaches to treatment and prevention. We have a particular focus on molecular mechanisms of thrombosis (blood clot formation) and fibrinolysis (blood clot dissolution), cardiomyopathy and heart failure.
We welcome medical students, as well as graduate students for research training opportunities.
Our Team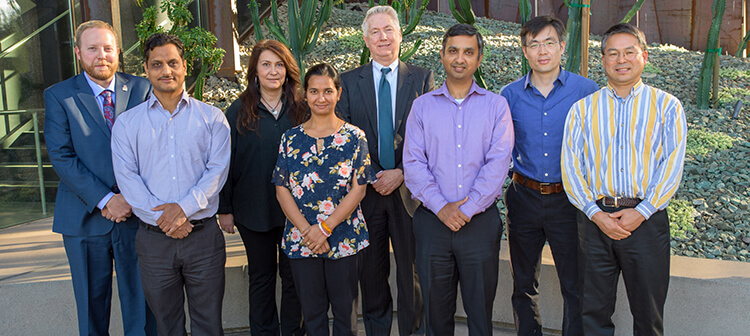 First Row Left to Right: Satish Singh, Ranjana Tripathi, Sofiyan Saleem, Joseph S.Y. Jeong
Second Row Left to Right: Ryan Sullivan, Inna Gladysheva, Dean Guy Reed, Dong Wang
Research Interests
Our lab's research interests include:
Thrombosis.
Stroke.
Heart failure.
Natriuretic peptides.
Corin, Renin-angiotensin-aldosterone-system.
Thrombolysis.
Fibrinolysis.
Sex-differences.
Edema.
Cardiac cachexia/sarcopenia.
Lab Skills
Translational models.
Cell culture.
Enzyme-linked immunosorbent assay (ELISA).
Polymerase chain reaction (PCR).
Tissue staining.
Micro-surgery.
In vivo imaging.
Drug delivery.
Antibody production