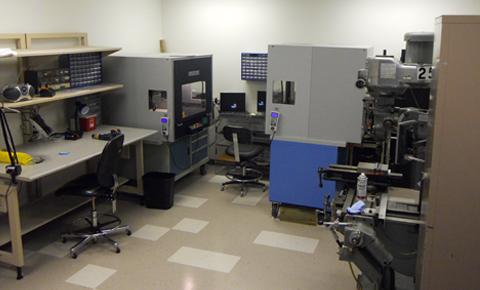 The fabrication team at ANBM specializes in the design and development of disposable (low cost) fluid handling platforms using conventional thermoplastic materials. We specialize in the design of self contained fluid management systems. Using Design for Manufacturing and Assembly (DFMA) strategies we constantly look towards scalability and cost control after the prototyping phase.  We can assist with the transfer of fabrication processes to a chosen industrial partner or assist in the selection process of a potential partner. Our engineers have over 25 years experience in the contract manufacturing arena and can provide detailed cost analysis and scale up projections.  Some of our in-house capabilities include:
Part or product design.
NC Programming.
NC and general machining of thermoplastics and soft metals (Copper, Aluminum, etc.).
Mechanical assembly.
Automated dispensing.
Multi-layer laminate assembly.
Bonding: Cold adhesion, thermal diffusion and UV.
3D Printing.
For more information and rates, please contact Dr. Frederic Zenhausern.