Dear Colleagues,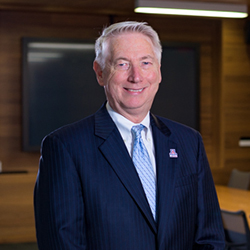 One year ago, I was honored to welcome members of the Class of 2021 during their White Coat Ceremony as my first official duty as dean of the University of Arizona College of Medicine – Phoenix.
The students I met that day were extremely bright and enthusiastic, and I watched as they pledged their commitment to the sacred responsibilities of their new profession.
I expect nothing less from our newest medical students, the Class of 2022, who will soon create their own class oath, and on July 20 will receive their own white coats.
The white coat is a symbol of our commitment to a profession built on a foundation of science, inspired by humanism and characterized by selflessness in the service of the greater good. It's a powerful symbol of empathy and respect that our students will earn through four years of intense training, classroom work, clinical rounds and, ultimately, by the patients they serve.
The original White Coat Ceremony was established in 1993 by the Arnold P. Gold Foundation as a way to welcome new students into medicine, the most noble profession. The first White Coat Ceremony for the College of Medicine – Phoenix was in July 2007 with 24 medical students. Today's students train in a far different world than in 1993, and even in 2007.
We are fortunate to have Michael Dake, MD, our new senior vice president for the University of Arizona Health Sciences, as our keynote speaker this year. His address is part of the White Coat Ceremony's history, where students are welcomed by a respected leader who represents the value system of the college.
Dr. Dake is a renowned researcher, clinician, teacher and leader. He is internationally known for pioneering image-guided therapies and novel approaches in interventional therapy in vascular imaging, venous thromboembolic disease, aortic aneurysms and dissection. Dr. Dake made medical history in 1992 with the implantation of the world's first thoracic stent-graft. His groundbreaking research with CT angiography and stent-grafts has rewritten medical and surgery textbooks.
We look forward to Dr. Dake's leadership in building the college's significance in education, clinical care and biomedical research.
With great pride, I look forward to seeing you at the Class of 2022 White Coat Ceremony and hope you have an opportunity to enjoy time with your families and friends this summer.
Sincerely,
Guy L. Reed, MD, MS
Dean, UA College of Medicine – Phoenix