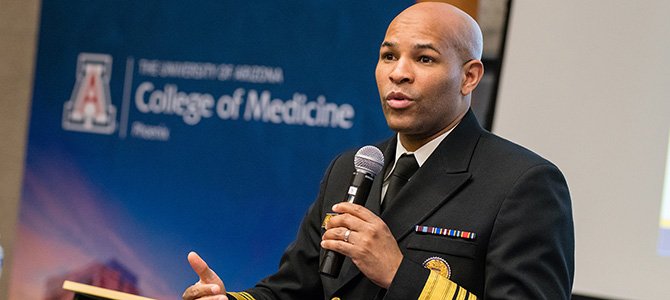 Greetings College Community,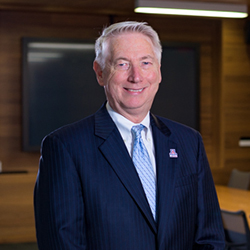 We had an exceptional visit from the United States Surgeon General Vice Admiral Jerome M. Adams, MD, MPH, on Feb. 13.
The U.S. Surgeon General participated in Grand Rounds, hosted by the Arizona Department of Health Services and our college, sharing a message about the priorities of his office and the state of the nation's health.
I encourage you to watch the entire Grand Rounds as I know you will find the presentation valuable and enlightening.
In a wide-ranging call to action, Dr. Adams encouraged physicians to use their voices to help businesses, politicians and voters understand that investing in health is essential to the economic health of their community.
He also prompted us to address physician burnout, become certified to carry the overdose-reversing drug naloxone and work to dispel stigmas associated with mental health, addiction and access to care.
As the "nation's doctor," Dr. Adams said he sees his role as using evidence-based science to promote health and prevent disease.
"I'm known as the nation's doctor, but my most important role is representing the nation's patients," said Dr. Adams, an anesthesiologist. As Surgeon General, he holds the rank of Vice Admiral in the U.S. Public Health Service Commissioned Corps. He oversees operations of 6,500 uniformed health officers who serve in 800 locations around the world who promote, protect and advance the health and safety of the U.S.
Dr. Adams shared his personal experience of his family's health issues: one grandfather, a smoker, died of lung cancer; another grandfather had a stroke from hypertension; his wife is being treated for metastatic melanoma; and several relatives suffer from substance use disorders, including his younger brother who is serving a 10-year prison sentence for crimes to support an opioid addiction.
"I share those stories because a lot of us hide those stories," he said. "As Surgeon General, I'm always asked about the biggest problems: diabetes, cancer, opioid addition, e-cigarettes. Across the board, the biggest problem is stigma. Stigma prevents people from coming forward to confront their issues, from seeking help.
"I represent people across the country suffering not only from disease, but from lack of access, from barriers that lead to these diseases in the first place."
To the medical students in the audience, Dr. Adams asked them to consider serving in uniform. "There are many ways you can serve with your health degree," he said. "It's a tremendous honor, and we are doing great things to protect the country."
He urged them to be "game changers and disruptors" in the medical community, adding that he is looking forward to the impact they will make on the future of medicine.
As we continue to work to achieve distinction in academic medicine, community engagement and improving patient care, I hope Dr. Adam's voice will continue to inspire you. We are grateful for his visit!
Sincerely,
Guy L. Reed, MD, MS
Dean, UA College of Medicine – Phoenix