Greetings College Community,
Match Day is the culmination of years of hard work, self-denial, emotional and financial commitment. Yet it all comes down to the opening of a single envelope that will determine the destiny of our fourth-year medical students for the next several years.
I thoroughly enjoyed Match Day 2019, watching the excitement on the faces of our students as well as their family and friends. Joy, disbelief, amazement and wonder were all present on our students' faces. It was a day that will be seared in our students' neurons for decades to come.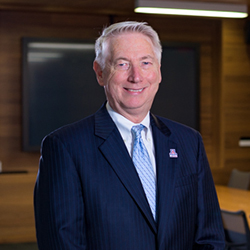 I am so proud of each student that matched into a residency program. Reflecting on this important day for our soon-to-be graduates, we should take a moment to savor our students' successes:
Fifty percent will pursue primary care fields, such as family medicine, internal medicine and pediatrics, a major need for Arizona.
A significant portion of the Class of 2019 placed into residencies sponsored by the UA College of Medicine – Phoenix and Banner Health or other Arizona residency programs. This reflects a primary focus of our medical school — to address Arizona's shortage of medical professionals.
We are equally proud of our students who matched into very competitive programs at prestigious institutions, including neurological surgery at the Cleveland Clinic, internal medicine at Harvard Medical School's Beth Israel Deaconess Medical Center in Boston, pediatrics at Johns Hopkins All Children's Hospital in Florida, emergency medicine at the University of Southern California and otolaryngology at Icahn School of Medicine at Mount Sinai.
Our UA College of Medicine – Phoenix residency program accepted 80 new interns from medical schools across the country, including many from our own Class of 2019.
No matter where they matched, our students are still on the road to success. Each member of this class is capable of great distinction in clinical medical, in research education and service. We believe in them and we believe that they will make the world better through their talents and commitment.
Our students' successes are not just a wonderful reflection on them, but on our exceptional faculty and staff. Their achievements validate the excellence of our curriculum, our program and our distributed teaching model, which allows our students to learn in an enriched, diverse environment.
Congratulations on another fantastic Match Day!
Sincerely,
Guy L. Reed, MD, MS
Dean, UA College of Medicine – Phoenix