Greetings,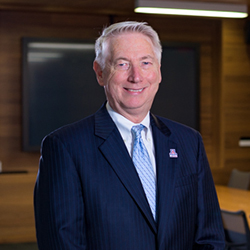 The University of Arizona College of Medicine – Phoenix is committed to inclusive excellence, and I can think of no better example of this than the women who serve as physicians and scientists, teaching, mentoring and leading others in academic medicine. The American Medical Association has named September "Women in Medicine" month to showcase the accomplishments of women physicians and to advocate for the advancement of women in health care. At our college, we also are highlighting our women scientists, whose work in advancing health care should be recognized.
Our Women in Medicine and Science group was formed to promote advancement, leadership and success for women faculty in all roles within academic medicine and science. On our campus, members of the committee have been active in creating a supportive and instructive network to promote women physicians and scientists into leadership positions and mentor others who hope to pursue careers in medicine or science.
Recently, a milestone has been achieved nationally — new female medical students outnumber male students. We achieved this years ago and have admitted more women to our first-year class than men. Our goal is to create an inclusive environment for all qualified applicants.
We know that women in science and medicine often face challenges when they try to advance in their career. While nearly half of medical and biological sciences doctoral students in the U.S. are female, only 37 percent advance to faculty and only 13 percent become full professors. A new study by JAMA concluded that female physicians are underrepresented in medical journals as well.
But there are encouraging signs. In August, Pamela Garcia-Filion, PhD, MPH, in our Department of Biomedical Informatics was awarded the year's best original paper in Hormone Research In Paediatrics for her research on optic nerve hypoplasia. Theresa Currier Thomas, PhD, a researcher in the Department of Child Health, was awarded a $1.65 million grant to investigate how a traumatic brain injury changes communication in the brain. Cheryl O'Malley, MD, interim vice dean of Academic Affairs, and Martha Gulati, MD, MS, chief of the Division of Cardiology for the UA College of Medicine – Phoenix, have been accepted into the prestigious Hedwig van Ameringen Executive Leadership in Academic Medicine program.
Also, I'd like to encourage you to support three of our women researchers as they lead this fall's Mini-Medical School community lecture series: Amelia Gallitano, MD, PhD; Melissa Herbst-Kralovetz, PhD, and Rebecca Fisher, PhD. Lectures are on Wednesdays — Sept. 5, Nov. 7 and Dec. 5 — from 5:30 p.m. to 7:00 p.m. in the Health Sciences Education Building Lecture Hall, C104. Register to attend.
These are just a few of the many contributions women are making to advance medicine and science at our university. We know that advocacy, mentoring, networking, developing leadership skills and general support improves recruitment, retention and advancement. I am proud of the successes we have had in promoting our colleagues and hope you join me in celebrating them this month.
Sincerely,
Guy L. Reed, MD, MS
Dean, UA College of Medicine – Phoenix