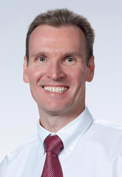 Contact:
University of Arizona College of Medicine - Phoenix ABC-1 Building 425 North 5th Street, Phoenix, AZ 85004
Professor
Professor - Basic Medical Sciences
Faculty
Basic Medical Sciences
Education
Fellowship: Biochemistry, Stanford University, School of Medicine, 1994
PhD: Biochemistry and Genetics, The University of Newcastle, 1990
Representative Recent Publications
Balzarini J, Menni M, Das K, van Berckelaer L, Ford A, Maguire NM, Liekens S, Boehmer PE, Arnold E, Götte M & Maguire AR (2017). Guanine α-carboxy nucleoside phosphonate (G-α-CNP) shows a different inhibitory kinetic profile against the DNA polymerases of human immunodeficiency virus (HIV) and herpes viruses. Biochem Pharmacol. Vol. 136, 51-61.
Rupesh, K. R., Smith, A. & Boehmer, P.E. (2014). Ligand induced stabilization of the melting temperature of the HSV-1 single-strand DNA binding protein using the thermal shift assay. Biochem. Biophys. Res. Commun. Vol. 454, 604-608.
Hsieh, J.-C., Kuta, R., Amour, C. & Boehmer, P.E. (2014). Identification of two novel functional p53 response elements in the herpes simplex virus-1 genome. Virology. 460-461,45-54.
Bogani F, Corredeira I, Fernandez V, Sattler U, Rutvisuttinunt W, Defais M & Boehmer PE (2010). Association between the Herpes Simplex Virus-1 DNA Polymerase and Uracil DNA Glycosylase. J Biol Chem. Vol. 285, 27664-27672.
Bogani F, Chua CN & Boehmer PE (2009). Reconstitution of uracil DNA glycosylase-initiated base excision repair in herpes simplex virus-1. J Biol Chem. Vol. 284, 16784-16790.
More publications from this Faculty on
Research Interests
Virology, Platform development, medical devices and procedures , Infectious Disease, Host-microbe interactions and immunology, Herpes, Gene-Environment Interaction, Epigenetics, Developmental, cell and molecular biology, Cancer
Research Summary
We are using HSV-1 as a model for genome transactions and to further understand this important human virus. We are examining the role of novel 5' dRP lyase and 3' DNA phosphatase activities of the viral DNA polymerase. We hypothesize that these activities prevent mutagenesis, to ensure virus viability during lytic replication and for reactivation from latency. We are also studying a role for p53 in controlling viral gene expression to regulate the balance between lytic replication and latency.