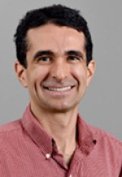 Contact:
Arizona State University 925 North Fifth Street, Phoenix, AZ 85004
Assistant Professor
Assistant Professor - Basic Medical Sciences
Faculty
Basic Medical Sciences
Education
PhD: Computational Biology and Bioinformatics, Yale University, 2007
Publications
Grube M, Dinu V, Lindemann H, Pielenz F, Festag G, Schubert US, Heinze T, Harding S & Nischang I (2020). Polysaccharide valproates: Structure - property relationships in solution. Carbohydr Polym. Vol. 246, 116652., 10/15/2020 - Article, Refereed Journal -
Hingorani P, Dinu V, Zhang X, Lei H, Shern JF, Park J, Steel J, Rauf F, Parham D, Gastier-Foster J, Hall D, Hawkins DS, Skapek SX, Labaer J & McEachron TA (2020). Transcriptome analysis of desmoplastic small round cell tumors identifies actionable therapeutic targets: a report from the Children's Oncology Group. Sci Rep. Vol. 10(1), 12318., 07/23/2020 - Article, Refereed Journal -
Beji O, Gillis RB, Dinu V, Jiwani SI, Gyasi-Antwi P, Fisk ID, Meal A, Morgan PS, Harding SE, Huang S, Agugini G, Fedele F & Adams GG (2020). Exploration of temperature and shelf-life dependency of the therapeutically available Insulin Detemir. Eur J Pharm Biopharm. Vol. 152, 340-347., 07/2020 - Article, Refereed Journal -
Dinu V, Lu Y, Weston N, Lithgo R, Coupe H, Channell G, Adams GG, Torcello Gómez A, Sabater C, Mackie A, Parmenter C, Fisk I, Phillips-Jones MK & Harding SE (2020). The antibiotic vancomycin induces complexation and aggregation of gastrointestinal and submaxillary mucins. Sci Rep. Vol. 10(1), 960., 01/22/2020 - Article, Refereed Journal -
Dinu V, Gillis RB, MacCalman T, Lim M, Adams GG, Harding SE & Fisk ID (2019). Submaxillary Mucin: its Effect on Aroma Release from Acidic Drinks and New Insight into the Effect of Aroma Compounds on its Macromolecular Integrity. Food Biophys. Vol. 14(3), 278-286., 04/15/2019 - Article, Refereed Journal -
Day SE, Coletta RL, Kim JY, Campbell LE, Benjamin TR, Roust LR, De Filippis EA, Dinu V, Shaibi GQ, Mandarino LJ & Coletta DK (2016). Next-generation sequencing methylation profiling of subjects with obesity identifies novel gene changes. Clinical Epigenetics. Vol. 8, 77., 07/18/2016 - Article, Refereed Journal -
More publications from this Faculty on
Research Interests
- Biomedical Informatics - Big Data - Genomics - Proteomics
Research Summary
Dr. Dinu's research interests include the assessment, improvement and development of computational approaches, software applications and databases that facilitate the management, integration and analysis of diverse sources of biomedical information. Application domains include next generation sequencing (NGS), genome wide association studies (GWAS) and proteomics.