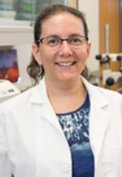 Contact:
University of Arizona College of Medicine - Phoenix ABC-1 Building 425 North 5th Street, Phoenix, AZ 85004
Professor
Interim Co-chair - Basic Medical Sciences
Director - Academic Affairs
Professor - Basic Medical Sciences
Faculty
Basic Medical Sciences; Academic Affairs; Basic Medical Sciences
Education
Postdoctoral Fellowship: 2004
PhD: Anthropology, Yale University, 2002
Publications
Lo C-Y, Zhao Y, Kim C, Alsaid Y, Khodambashi R, Peet M, Fisher RE, Marvi H, Berman S, Aukes D & He X (2021). Highly stretchable self-sensing actuator based on conductive photothermally-responsive hydrogel. Materials Today. Vol. 50, 35-43., 11/2021 - Article, Refereed Journal -
Fisher RE (2021). Red panda anatomy. Red Panda: Biology and Conservation of the First Panda. 81-93., 10/2021 - Article, Refereed Journal -
Khodambashi R, Alsaid Y, Rico R, Marvi H, Peet MM, Fisher RE, Berman S, He X & Aukes DM (2021). Heterogeneous hydrogel structures with spatiotemporal reconfigurability using addressable and tunable voxels. Advanced Materials., 03/11/2021 - Article, Refereed Journal -
Xu C, Palade J, Fisher RE, Smith CI, Clark AR, Sampson S, Bourgeois R, Rawls A, Elsey RM, Wilson-Rawls J & Kusumi K (2020). Anatomical and histological analyses reveal that tail repair is coupled with regrowth in wild-caught, juvenile American alligators (Alligator mississippiensis). Scientific Reports., 11/18/2020 - Article, Refereed Journal -
Bagheri H, Hu A, Cummings S, Roy C, Casleton R, Wan A, Erjavic N, Berman S, Peet MM, Aukes DM, He X, Pratt SC, Fisher RE & Marvi H (2020). New insights into the control and function of octopus suckers. Advanced Intelligent Systems., 09/01/2020 - Article, Refereed Journal -
More publications from this Faculty on
Research Interests
- Morphology - Medical Education - Evolution - Developmental, cell and molecular biology - Developmental Disabilities - Aging Diseases
Research Summary
Dr. Fisher studies the functional anatomy and evolution of the musculoskeletal system. Trained as an anatomist and paleontologist, Dr. Fisher has analyzed a diverse array of species, including artiodactyls, carnivorans, lizards and octopuses. In addition, she collaborates with engineers to design bio-inspired robots for medical, industrial, and military applications.