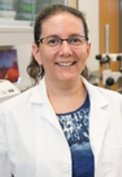 Contact:
University of Arizona College of Medicine - Phoenix ABC-1 Building 425 North 5th Street, Phoenix, AZ 85004
Building
AHSC Education Building
Professor & Interim Co-Chair & Director, Gross Anatomy Laboratory
Professor - Basic Medical Sciences
Interim Co-Chair - Basic Medical Sciences
Director, Gross Anatomy Laboratory - Academic Affairs
Faculty
Basic Medical Sciences; Basic Medical Sciences; Academic Affairs
Education
Postdoctoral Fellowship: Johns Hopkins University School of Medicine - Baltimore, Maryland, 2004
PhD: Anthropology, Yale University, 2002
Representative Recent Publications
Lafmejani AS, Doroudchi A, Farivarnejad H, He X, Aukes D, Peet M, Marvi H, Fisher RE & Berman S (2020). Kinematic modeling and trajectory tracking control of an octopus-inspired continuum robot. IEEE Robotics and Automation Letters. Vol. 5(2), 3460-3467.
Bagheri H, Hu A, Cummings S, Roy C, Casleton R, Wan A, Erjavic N, Berman S, Peet MM, Aukes DM, He X, Pratt SC, Fisher RE & Marvi H (2020). New insights into the control and function of octopus suckers. Advanced Intelligent Systems.
Tollis M, Hutchins ED, Stapley J, Rupp SM, Eckalbar WL, Maayan I, Lasku E, Infante CR, Dennis SR, Robertson JA, May CM, Crusoe MR, Bermingham E, DeNardo DF, Hsieh ST, Kulathinal RJ, McMillan WO, Menke DB, Pratt SC, Rawls JA, Sanjur O, Wilson-Rawls J, Wilson Sayres MA, Fisher RE & Kusumi K (2018). Comparative genomics reveals accelerated evolution in conserved pathways during the diversification of anole lizards. Genome Biology Evolution. Vol. 10(2), 489-506.
Ercoli MD, Alvarez A, Busker F, Morales MM, Julik E, Smith HF, Adrian B, Barton M, Bhagavatula K, Poole M, Shahsavan M, Wechsler R & Fisher RE (2017). Myology of the head, neck and thoracic region of the lesser grison (Galictis cuja) in comparison with the red panda (Ailurus fulgens) and other carnivorans: phylogenetic and functional implications. Journal of Mammalian Evolution. Vol. 24(3), 289–322.
Tokuyama MA, Xu C, Fisher RE, Rawls JW, Kusumi K & Newbern J (2018). Developmental and adult-specific processes contribute to de novo neuromuscular regeneration in the lizard tail. Developmental Biology. Vol. 433(2), 287-296.
More publications from this Faculty on
Research Interests
Morphology, Medical Education, Evolution, Developmental, cell and molecular biology, Developmental Disabilities, Aging Diseases
Research Summary
Dr. Fisher studies the functional anatomy and evolution of the musculoskeletal system in vertebrates and cephalopods. She has analyzed the musculoskeletal anatomy of a diverse array of species, including artiodactyls, carnivorans and lizards. She is currently studying the anatomy and neuromuscular control of octopus arms as part of a project funded by the Office of Naval Research.