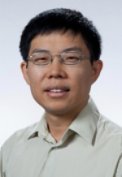 Contact:
University of Arizona College of Medicine - Phoenix ABC-1 Building 425 North 5th Street, Phoenix, AZ 85004
Associate Professor
Associate Professor - Basic Medical Sciences
Faculty
Basic Medical Sciences
Education
PhD: Electrical Engineering, Princeton University, 2003
Representative Recent Publications
Gu J, Norquist A, Yang J, Brooks C, Repin M, Mukherjee S, Lacombe J, Yang J, Brenner DJ, Amundson S & Zenhausern F (2019). Development of an Integrated Fingerstick Blood Self-Collection Device for Radiation Countermeasures. PLoS ONE. Vol. 14(10, e0222951.
Chen P, Gates-Hollingsworth M, Pandit S, Park A, Montgomery D, Aucoin D, Gu J & Zenhausern F (2019). Based Vertical Flow Immunoassay (VFI) for Detection of Bio-Threat Pathogens. Talanta. Vol. 191, 181-88.
Brengues M, Gu J & Zenhausern F (2015). Microfluidic module for blood cell separation for gene expression radiobiological assays. Radiat Prot Dosimetry. Vol. 166(1-4), 306-10.
Hurth C, Gu J, Aboud M, Estes MD, Nordquist AR, McCord B & Zenhausern F (2012). Direct loading of polymer matrices in plastic microchips for rapid DNA analysis: a comparative study. Electrophoresis. Vol. 33(16), 2604-11.
J. Gu, X. Xiao, B.R. Takulapalli, M.E. Morrison, P. Zhang & F. Zenhausern (2008). A new approach to fabricating high-density nanoarrays by nanocontact printing. J Vac Sci Technol B. Vol. 26(6), 1860.
More publications from this Faculty on
Research Interests
Platform development, medical devices and procedures
Research Summary
Dr. Gu's research program focuses on using nano/microfabricated structures and fluidic systems for a broad range of biomedical applications. The research projects include paper-based microfluidic devices for sensitivity disease biomarker detection for point-of-need applications; organ-on-chip platform for cancer metastasis modeling; devices for preanalytic blood collection and processing; as well as device and systems for disruptive bioassay logistics.