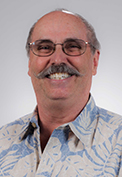 Contact:
University of Arizona College of Medicine - Phoenix ABC-1 Building 425 North 5th Street, Phoenix, AZ 85004
Professor
Professor - Basic Medical Sciences
Professor - Psychiatry
Faculty
Basic Medical Sciences; Psychiatry
Education
Postdoctoral Fellowship: Neurobiology, University of California, Los Angeles, 1981
PhD: Anatomy, University of California, Los Angeles, 1980
Representative Recent Publications
Maple AM, Call T, Kimmel PC & Hammer RP Jr (2017). Effects of Repeated Ropinirole Treatment on Phencyclidine-Induced Hyperlocomotion, Prepulse Inhibition Deficits, and Social Avoidance in Rats. J Pharmacol Exp Ther. Vol. 361(1), 109-114.
Wang J, Bastle RM, Bass CE, Hammer RP Jr, Neisewander JL & Nikulina EM (2016). Overexpression of BDNF in the ventral tegmental area enhances binge cocaine self-administration in rats exposed to repeated social defeat. J Neuropharm. Vol. 109, 121-130.
Huang Z, Wang H, Wang J, Zhao M, Sun N, Sun F, Shen J, Zhang H, Xia K, Chen D, Gao M, Hammer RP, Liu Q, Xi Z, Fan X & Wu J (2016). Cannabinoid receptor subtype 2 (CB2R) agonist, GW405833 reduces agonist-induced Ca(2+) oscillations in mouse pancreatic acinar cells. Sci Rep. Vol. 6, 29757.
Barany G, Britton D, Chen L, Hammer RP, Henley MJ, Schrader AM & Young VG Jr (2015). Unexpectedly Stable (Chlorocarbonyl)(N-ethoxycarbonylcarbamoyl)disulfane, and Related Compounds That Model the Zumach-Weiss-Kühle (ZWK) Reaction for Synthesis of 1,2,4-Dithiazolidine-3,5-diones. J Org Chem. Vol. 80(22), 11313-21.
Hoffman AN, Parga A, Paode PR, Watterson LR, Nikulina EM, Hammer RP Jr & Conrad CD (2015). Chronic stress enhanced fear memories are associated with increased amygdala zif268 mRNA expression and are resistant to reconsolidation. Neurobiol Learn Mem. Vol. 120, 61-8.
More publications from this Faculty on
Research Interests
Schizophrenia, Drug Abuse and Dependence, Chronic Stress
Research Summary
Dr. Hammer's research examines the cellular and molecular basis of schizophrenia symptoms. For example, we showed that repeated treatment with dopamine agonist drugs may provide a putative treatment for long-lasting control of schizophrenia symptoms selectively in neurons that co-express dopamine D1 and D3 receptors. Other studies reveal that posterior striatal dopamine infusion activates the auditory cortex, as occurs during auditory hallucinations.