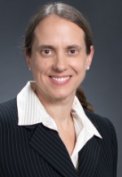 Contact:
University of Arizona College of Medicine - Phoenix ABC-1 Building 425 North 5th Street, Phoenix, AZ 85004
Associate Professor
Associate Professor - Basic Medical Sciences
Faculty
Basic Medical Sciences
Education
Postdoctoral Fellowship: Immunobiology, Yale University, Howard Hughes Medical Institute, 2006
Residency: Dermatology, Yale New Haven Hospital, 2004
Internship: Internal Medicine, Yale New Haven Hospital, 2001
MD: Harvard University, 2000
PhD: Immunology, Harvard University, 2000
Specialties
American Board of Dermatology
Representative Recent Publications
Rausch MP, Meador LR, Metzger TC, Li H, Qiu S, Anderson MS & Hastings KT (2020). GILT in thymic epithelial cells facilitates central CD4 T cell tolerance to a tissue-restricted, melanoma-associated self antigen. J Immunol. Vol. 204(11), 2877-2886.
Borden ES, Kang P, Natri HM, Phung TN, Wilson MA, Buetow KH & Hastings KT (2019). Neoantigen fitness model predicts lower immune recognition of cutaneous squamous cell carcinomas than actinic keratoses. Front Immunol. Vol. 10, 2799.
Buetow KH, Meador LR, Menon H, Lu YK, Brill J, Cui H, Roe DJ, DiCaudo DJ & Hastings KT (2019). High GILT expression and an active and intact MHC class II antigen presentation pathway are associated with improved survival in melanoma. J Immunol. Vol. 203(10), 2577-2587.
Rausch MP & Hastings KT (2017). Immune checkpoint inhibitors in the treatment of melanoma: from basic science to clinical application; In textbook of Cutaneous Melanoma: Etiology and Therapy - Ward, WH, Farma, JM, eds.. (pp. Chapter 9). Codon Publications, Brisbane, Australia.
Nguyen J, Bernert R, In K, Kang P, Sebastiao N, Hu C & Hastings KT (2016). Gamma-interferon-inducible lysosomal thiol reductase is upregulated in human melanoma. Melanoma Res. Vol. 26(2), 125-37.
More publications from this Faculty on
Research Interests
Skin Cancer, Neoplasms, Squamous Cell, Melanoma, Immunology, Development and Regulation of Immune Responses, Dermatology, Carcinoma, Cancer, Autoimmunity, Antigen Presentation
Research Summary
Dr. Hastings is a physician-scientist with a research program focused on antigen processing and control of T cell responses in skin cancer and autoimmunity. Her laboratory has defined gamma-interferon-inducible lysosomal thiol reductase (GILT) as a critical enzyme in MHC class II-restricted presentation of and regulation of T cell tolerance to melanocyte differentiation antigens important in melanoma and vitiligo. She is investigating the clinical significance of GILT in melanoma and lymphoma.