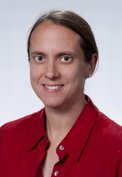 Contact Info
Building
AZ Biomedical Collaborative 1
Associate Professor
Faculty
College of Medicine Phx Basic Medical Sciences
Education
Post-Doctoral: Yale University, 2003 – 2006.
Internal Medicine Internship and Dermatology Residency: Yale New Haven Hospital, 2000 – 2004.
MD, PhD: Harvard Medical School, 2000.
Publications
Nguyen J, Bernert R, In K, Kang P, Sebastiao N, Hu C, Hastings KT; Gamma-interferon-inducible lysosomal thiol reductase is upregulated in human melanoma, Melanoma Research; 2016; 26(2):125-37.
Rausch MP, Hastings KT; Diverse cellular and organismal functions of the lysosomal thiol reductase GILT, Molecular Immunology; 2015; 68(2 Pt A):124-8.
Rausch MP, Hastings KT; An exhaustion-like phenotype constrains the activity of CD4+ T cells specific for a self and melanoma antigen, PlosOne; 2015; 10(4):e0123332.
Phipps-Yonas H, Cui H, Sebastiao N, Brunhoeber PS, Haddock E, Deymier MJ, Klapper W, Lybarger L, Roe DJ, Hastings KT; Low GILT expression is associated with poor survival in diffuse large B-cell lymphoma, Frontiers in Immunology; 2013; 4:425.
Phipps-Yonas H, Semik V, Hastings KT; GILT expression in B cells diminishes cathepsin S steady-state protein expression and activity, European Journal of Immunology; 2013; 43(1): 65-74.
For a complete listing of Dr. Hastings' publications, search PubMed.
Research Interests
Immunology (antigen presentation and regulation of T cell responses), cancer (melanoma and squamous cell carcinoma), dermatology (autoimmunity and skin cancer)
Research Summary
Dr. Hastings is a physician-scientist with a research program focused on antigen processing and control of T cell responses in skin cancer and autoimmunity. Her laboratory has defined gamma-interferon-inducible lysosomal thiol reductase (GILT) as a critical enzyme in MHC class II-restricted presentation of and regulation of T cell tolerance to melanocyte differentiation antigens important in melanoma and vitiligo. She is investigating the clinical significance of GILT in melanoma and lymphoma.