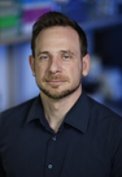 Contact:
Translational Genomics Research Institute (TGen) 445 North Fifth Street, Phoenix, AZ 85004
Research Associate Professor
Research Associate Professor - Basic Medical Sciences
Faculty
Basic Medical Sciences
Education
PhD: Physiology, University of Florida, 2003
Representative Recent Publications
Llaci L, Ramsey K, Belnap N, Claasen AM, Balak CD, Szelinger S, Jepsen WM, Siniard AL, Richholt R, Izat T, Naymik M, De Both M, Piras IS, Craig DW, Huentelman MJ, Narayanan V, Schrauwen I & Rangasamy S. (2019). Compound heterozygous mutations in SNAP29 is associated with Pelizaeus-Merzbacher-like disorder (PMLD). Hum Genet. Vol. 138(11/12), 1409-1417.
Jepsen WM, Ramsey K, Szelinger S, Llaci L, Balak C, Belnap N, Bilagody C, De Both M, Gupta R, Naymik M, Pandey R, Piras IS, Sanchez-Castillo M, Rangasamy S, Narayanan V & Huentelman MJ (2019). Two additional males with X-linked, syndromic mental retardation carry de novo mutations in HNRNPH2. Clin Genet. Vol. 96(2), 183-185.
Piras IS, Krate J, Delvaux E, Nolz J, Mastroeni DF, Persico AM, Jepsen WM, Beach TG, Huentelman MJ & Coleman PD (2019). Transcriptome Changes in the Alzheimer's Disease Middle Temporal Gyrus: Importance of RNA Metabolism and Mitochondria-Associated Membrane Genes. J Alzheimers Dis. Vol. 70(3), 691-713.
Neuner SM, Heuer SE, Huentelman MJ, O'Connell KMS & Kaczorowski CC (2019). Harnessing Genetic Complexity to Enhance Translatability of Alzheimer's Disease Mouse Models: A Path toward Precision Medicine. Neuron. Vol. 44(6), 399-411.
Caccamo A, Branca C, Piras IS, Ferreira E, Huentelman MJ, Liang WS, Readhead B, Dudley JT, Spangenberg EE, Green KN, Belfiore R, Winslow W & Oddo S (2017). Necroptosis activation in Alzheimer's disease. Nat Neurosci. Vol. 20(9), 1236-1246.
More publications from this Faculty on
Research Interests
Neuroscience, Genomics, Biomarkers
Research Summary
Dr. Huentelman's laboratory utilizes genomic technologies to better understand personalized neurological disease risk and mechanisms. An additional goal is to leverage new information to design more focused and effective therapeutic strategies. He has a particular focus on aging and diseases with a significant aging component as well as disorders that are very rare in their prevalence.