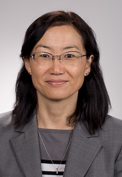 Contact:
University of Arizona College of Medicine - Phoenix ABC-1 Building 425 North 5th Street, Phoenix, AZ 85004
Building
AZ Biomedical Collaborative 1
Associate Professor & Director, Personalized Active Learning (PAL)
Associate Professor - Basic Medical Sciences
Director, Personalized Active Learning (PAL)
Faculty
Basic Medical Sciences
Education
Postdoctoral Fellowship: Hooper Research Foundation, 2004
PhD: Genetics, Yale University, School of Medicine, 1998
Representative Recent Publications
Keenen MM & Kim S (2016). Tumor suppressor ING4 inhibits estrogen receptor activity in breast cancer cells. Breast Cancer. Vol. 8, 211-221.
Kim S (2015). New and emerging factors in tumorigenesis: an overview. Cancer Manag Res. Vol. 7, 225-239.
Byron SA, Min E, Thal TS, Tapia C, Hostetter G, Watanabe A, Azorsa D, Little TH & Kim S (2012). Attenuation of NF-kappa B by the ING4 tumor suppressor in breast cancer. PLoS One. Vol. 7(10)
Tapia C, Zlobec I, Schneider S, Kilic E, Guth U, Bubendorf L & Kim S (2011). Deletion of the ING4 tumor suppressor gene is prevalent in HER2-positive breast cancer. Hum Pathol. Vol. 42(7), 983-990.
Kim S, Welm AL & Bishop JM (2010). A dominant mutant allele of the ING4 tumor suppressor found in human cancer cells exacerbates MYC-initiated mouse mammary tumorigenesis. Cancer Res. Vol. 70, 5155-5162.
Research Interests
Genes, Tumor Suppressor, Gene Regulation, Cancer
Research Summary
We investigate tumor suppressor (TS) genes in cancer and how TS deficiencies lead to tumor formation and progression. We have characterized Inhibitor of Growth 4 (ING4) TS in breast cancer, of which deficiency is correlated with metastatic and therapy-resistant tumors. We have defined ING4 as a transcriptional regulator that plays a critical role in tumor-immune modulation and hormone response. Ongoing studies include the molecular mechanism of ING4 and TSs in neuroblastoma and lung cancer.