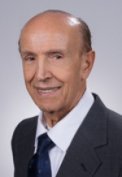 Contact:
Arizona Retinal Specialist 19052 RH Johnson Boulevard, Sun City West, AZ 85375
Clinical Professor
Clinical Professor - Ophthalmology
Clinical Professor - Basic Medical Sciences
Faculty
Ophthalmology; Basic Medical Sciences
Education
Fellowship: Retina, University of California, Los Angeles, School of Medicine, 1971
Fellowship: Retina, Universität Duisburg-Essen, 1970
Residency: Ophthalmology, Universität Duisburg-Essen, 1969
Residency: Ophthalmology, Heinrich-Heine-Universitaet Düsseldorf, 1966
Internship: Passiac General Hospital, 1965
Internship: Saint Johannes Hospital, 1964
MD: Universität Freiburg, 1962
Specialties
American Board of Ophthalmology
Representative Recent Publications
Shah TJ, Conway MD & Peyman GA (2018). Intracameral dexamethasone injection in the treatment of cataract surgery induced inflammation: design, development, and place in therapy. Clin Ophthalmol. Vol. 12, 2223-2235.
Peyman GA (2018). Intravitreal Injections: A Historic Background. J Ophthalmic Vis Res. Vol. 13(2), 91-92.
Conway MD, Stern E, Enfield DB & Peyman GA (2018). Management of cataract in uveitis patients. Curr Opin Ophthalmol. Vol. 29(1), 69-74.
Kusne Y, Wolf AB, Townley K, Conway MD & Peyman GA (2017). Visual system manifestations of Alzheimer's disease. Acta Ophthalmol. Vol. 95(8), e668-e676.
Amirsolaimani B, Peyman GA, Schwiegerling J, Bablumyan A & Peyghambarian N (2017). A new low-cost, compact, auto-phoropter for refractive assessment in developing countries. Sci Rep. Vol. 7(1), 13990.
More publications from this Faculty on
Research Interests
Retinal and Corneal Diseases, Optical Storage Devices