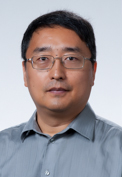 Contact:
University of Arizona College of Medicine - Phoenix ABC-1 Building 425 North 5th Street, Phoenix, AZ 85004
Building
AZ Biomedical Collaborative 1
Associate Professor
Associate Professor - Basic Medical Sciences
Faculty
Basic Medical Sciences
Education
Postdoctoral Fellowship: Neurodevelopmental Disorders, Vanderbilt University, 2012
PhD: Environmental Toxicology and Neuroscience, University of California, Riverside, 2004
MD: Nanjing Medical University, 1994
MPH: Nanjing Medical University, 1997
Representative Recent Publications
Li H, Zhou X, Li Y, Ma X, Gonzales RJ, Qiu S, Shi FD & Liu Q (2019). The selective sphingosine 1-phosphate receptor 1 modulator RP101075 improves microvascular circulation after cerebrovascular thrombosis. FASEB J. Vol. 33(10), 10935-10941.
Ma Z, Gao F, Larsen B, Gao M, Luo Z, Chen D, Ma X, Qiu S, Zhou Y, Xie J, Xi ZX & Wu J (2019). Mechanisms of cannabinoid CB 2 receptor-mediated reduction of dopamine neuronal excitability in mouse ventral tegmental area. EBioMedicine. Vol. 42, 225-237.
Huang G, Chen S, Chen X, Zheng J, Xu Z, Doostparast Torshizi A, Gong S, Chen Q, Ma X, Yu J, Zhou L, Qiu S, Wang K & Shi L (2019). Uncovering the Functional Link Between SHANK3 Deletions and Deficiency in Neurodevelopment Using iPSC-Derived Human Neurons. Front Neuroanat. Vol. 13, 23.
Stephany CÉ, Ma X, Dorton HM, Wu JC, Solomon AM, Frantz MG, Qiu S & McGee AW (2018). Distinct Circuits for Recovery of Eye Dominance and Acuity in Murine Amblyopia. Curr Biol. Vol. 28(12), 1914-1923.
Yang X, Ren H, Wood K, Li M, Qiu S, Shi FD, Ma C & Liu Q (2018). Depletion of microglia augments the dopaminergic neurotoxicity of MPTP. FASEB J. Vol. 32(6), 3336-3345.
More publications from this Faculty on
Research Interests
Neurodevelopmental Disorders, Epilepsy, Electrophysiology, Developmental Neurobiology, Brain Circuits, Autism
Research Summary
The overall interest of Dr. Shenfeng Qiu's lab is to understand the brain origins of neurodevelopmental and neuropsychiatric disorders, such as autism spectrum disorders. One ongoing project (R01MH111619) focuses on the role of MET tyrosine kinase, identified as a major risk for autism. Our lab aims to identify mechanisms by which MET affects neuronal growth, maturation and brain circuit function. We are also interested in the UBE3A protein in Angelman syndrome.