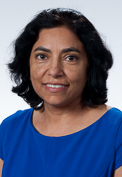 Contact:
University of Arizona College of Medicine - Phoenix ABC-1 Building 425 North 5th Street, Phoenix, AZ 85004
Associate Professor
Associate Professor - Basic Medical Sciences
Faculty
Basic Medical Sciences
Education
Postdoctoral Fellowship: Regulation of Pre-mRNA Splicing, University of Southern California, Los Angeles, 2010
PhD: Biochemistry, Indian Institute of Science, 1999
Representative Recent Publications
Martelly W, Fellows B, Senior K, Marlowe T & Sharma S (2019). Identification of a noncanonical RNA binding domain in the U2 snRNP protein SF3A1. RNA. Vol. 25(11), 1509-1521.
Kumar N, Sharma S, Barua S, Tripathi BN & Rouse BT (2018). Virological and Immunological Outcomes of Coinfections. Clin Microbiol Rev. Vol. 31(4), 00111-00117.
Sahay N, Sharma S, Bhadani UK, Singh A, Sinha C, Sahay A, Ranjan A & Agarwal M (2018). Effect of Pneumoperitoneum and Patient Positioning on Intracranial Pressures during Laparoscopy: A Prospective Comparative Study. J Minim Invasive Gynecol. Vol. 25(1), 147-152.
Dash P, Fiore-Gartland AJ, Hertz T, Wang GC, Sharma S, Souquette A, Crawford JC, Clemens EB, Nguyen THO, Kedzierska K, La Gruta NL, Bradley P & Thomas PG (2017). Quantifiable predictive features define epitope-specific T cell receptor repertoires. Quantifiable predictive features define epitope-specific T cell receptor repertoires. Vol. 547(7661), 89-93.
Nogusa S, Thapa RJ, Dillon CP, Liedmann S, Oguin TH 3rd, Ingram JP, Rodriguez DA, Kosoff R, Sharma S, Sturm O, Verbist K, Gough PJ, Bertin J, Hartmann BM, Sealfon SC, Kaiser WJ, Mocarski ES, López CB, Thomas PG, Oberst A, Green DR & Balachandran S (2016). RIPK3 Activates Parallel Pathways of MLKL-Driven Necroptosis and FADD-Mediated Apoptosis to Protect against Influenza A Virus. Cell Host Microbe. Vol. 20(1), 13-24.
More publications from this Faculty on
Research Interests
Pre-mRNA splicing, acute myeloid leukemia, Myelodysplastic Syndromes
Research Summary
The Sharma lab focuses on understanding the role of splicing factor mutations in the pathogenesis of myeloid malignancies, including acute myeloid leukemia, myelodysplastic syndrome and chronic myelomonocytic leukemia. The goal is to determine the impact of splicing factor mutations on proliferation and myeloid differentiation of human hematopoietic stem cells, as well as to identify mutation-induced aberrations in pre-RNA splicing and protein expression that can be targeted for therapy.