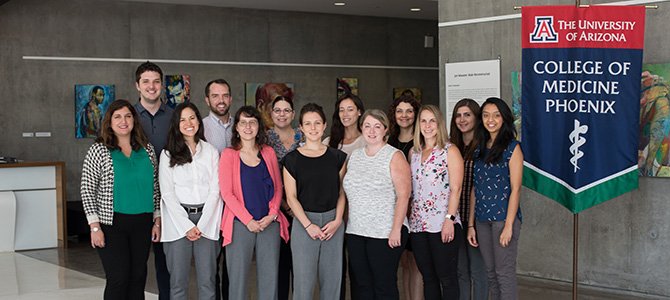 The Department of Family, Community and Preventive Medicine is delighted to announce the very successful revision and launch of a Faculty Development Fellowship program. Under the direction of Dr. Jennifer Hartmark-Hill, 15 faculty members and senior residents from as far away as Yuma will learn and apply a wide range of important academic concepts and skills, including adult learning theory, precepting, provision of feedback, information mastery and physician wellness.
The first session of the 2017–18 program took place on September 8, 2017. This program sustains a tradition of high-quality family medicine faculty enrichment at the University of Arizona, both in Phoenix and Tucson, that dates back over 30 years.
Back Row (left to right): Matthew Steele, Jacob Anderson, Sarah Thomas, Tanya Vondetten, Sabrina Pojar, Atoosa Hosseini.
Front Row (left to right): Natalia Galarza Carrazco, Joanna Campodonico, Shari Pressley, Janelle Donaldson, Jenna Sangkam, Jesselyn Gaona, Aarohi Munshi.
*Missing from Photo: Joseph Daniel Hogue and Stephanie Briney