News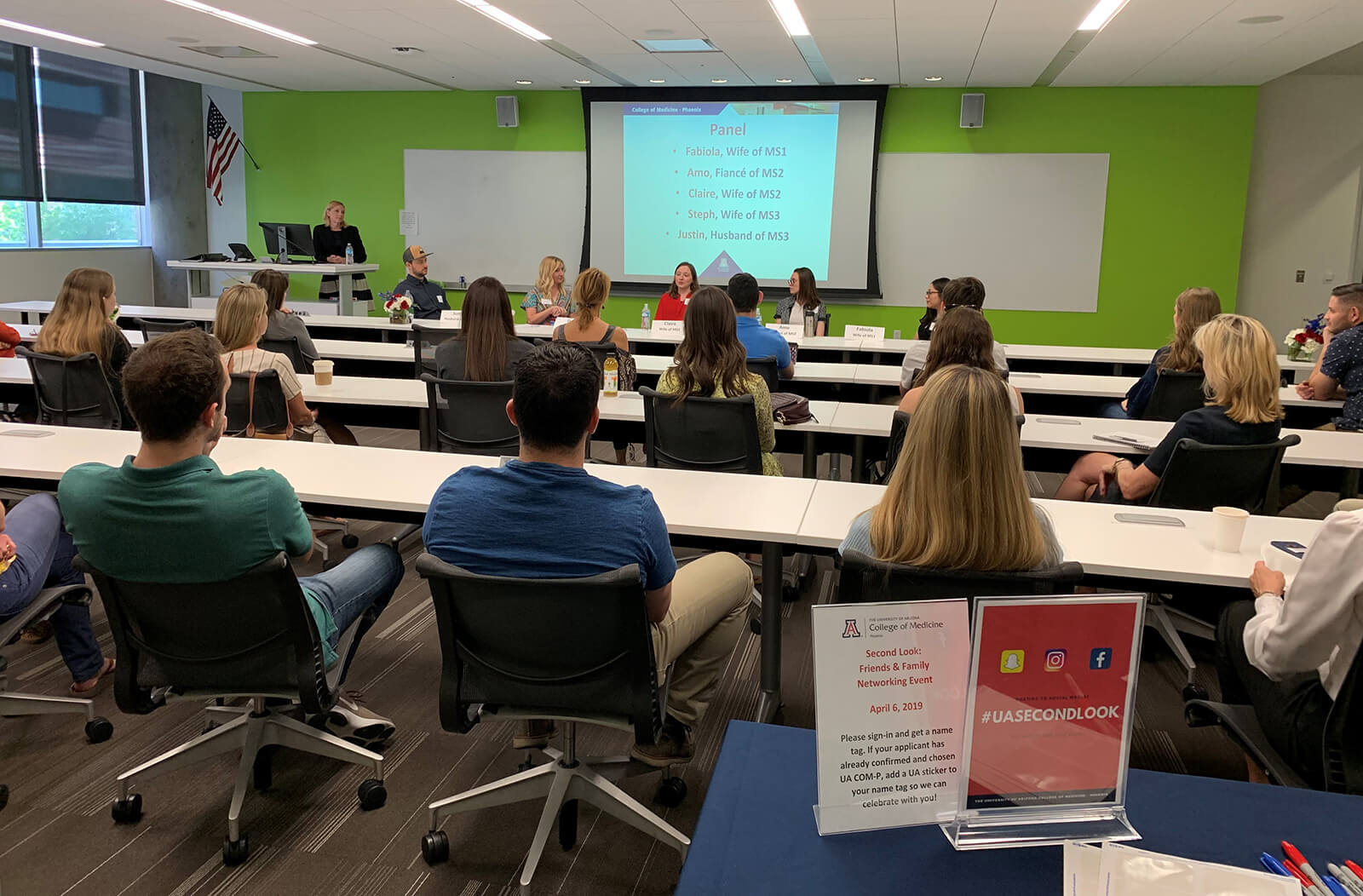 News
The Friends and Family Network provides loved ones of medical students with support system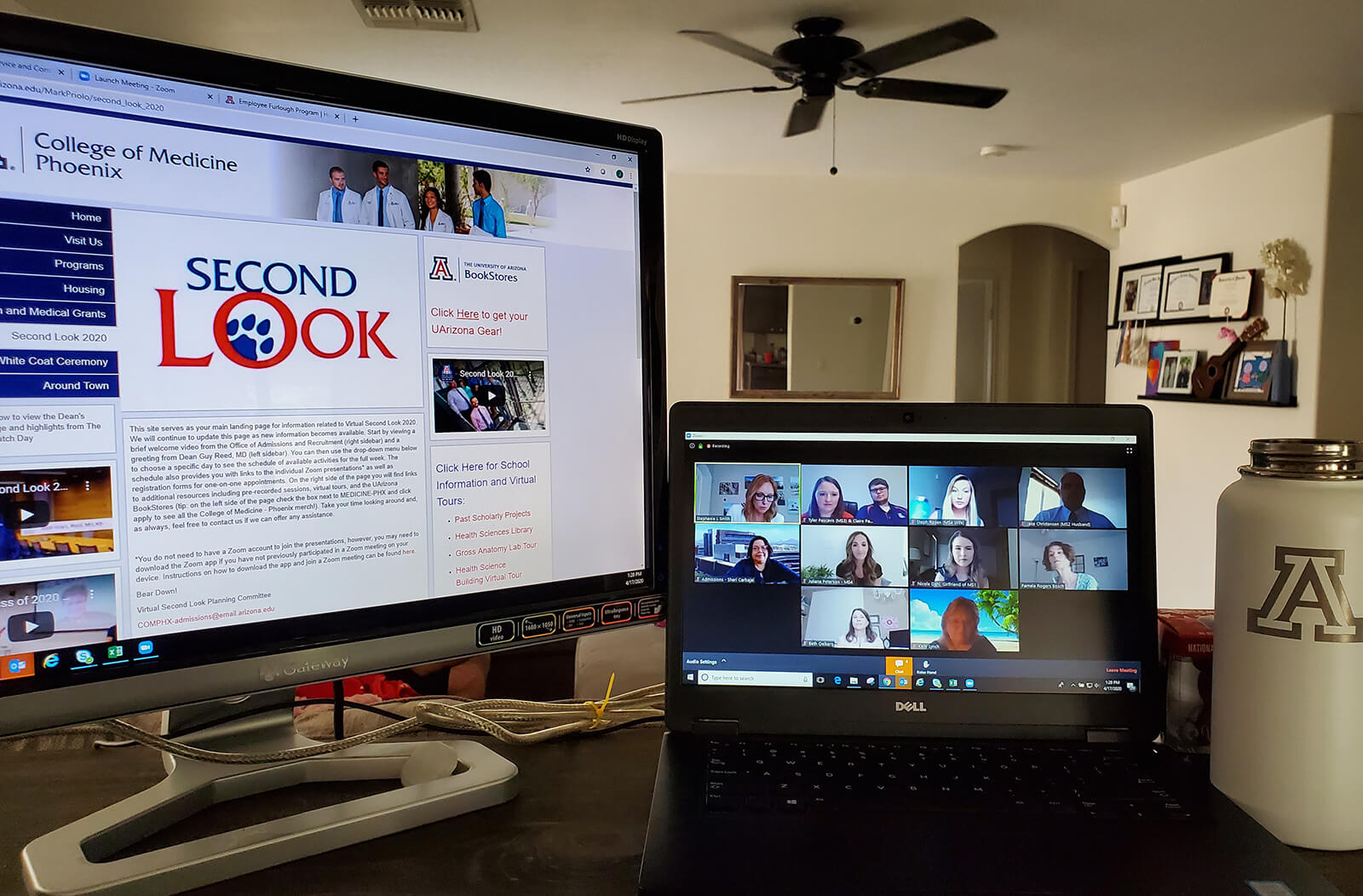 News
More than 100 prospective medical students attend Virtual Second Look
Overview
The Friends and Family Network at the University of Arizona College of Medicine – Phoenix promotes the connection of students' external support systems to our campus. The Friends and Family Network was started in April 2018 by the manager of Alumni and Student Relations, director of Student Development, and assistant director, Student Wellness and Engagement.
Goals
To enhance student well-being through education of friends and families on student life, curricular requirements and college resources.
To provide a national support system by connecting students' families and friends.
To decrease the financial burden of student travel.
Annual Events
Second Look Friends and Family Network Event:
This event features a panel of spouses, significant others and parents of medical students. It provides an opportunity for potential students to network with their peers who are also starting their journey to an MD.
This event originated as an idea from two medical students' wives who wanted to help build the medical student support system community and introduce the families to our culture before the first day of medical school.
Together, the Office of Admissions and Recruitment partnered with the Friends and Family Network to hold the first event in April 2019. The inaugural event was a success and continues to be a permanent part of Second Look.
Campus Open House Panel:
This is an invitation-only event for the families of our new first-year medical students. It takes place the morning of their White Coat Ceremony in July. Panel members include spouses, partners and parents. The inaugural panel was created and implemented by the director of Student Development in July 2015.
Thankful for Friends and Family Virtual Event:
This is an invitation-only event for the friends and families of our medical students. Loved ones who live in Arizona and out-of-state are invited to virtually participate. This event includes a panel and breakout sessions to promote networking and supporting each other during this four-year medical school journey. Panel members include spouses, partners, siblings and parents. The inaugural event was held in November 2020.
Campus Resources
This program recognizes friends and family are the medical students' number one support system. We feel it's important to enhance student well-being by educating loved ones on student life, curricular requirements and college resources, as well as creating a community of support. This knowledge empowers loved ones to encourage their student to utilize the resources available during medical school.
Big Sibs/Wellness Groups.
Free psychologists.
Professional Resource Office.
Built in down-time throughout the curriculum.
Wellness activities – The Wellness Olympics, wellness awareness practices, social gatherings, community service opportunities.
Alumni.
Friends and Family Network online community.
Block directors, faculty, staff.
Learning specialists.
Career advisors.
Free tutors.
Workshops.
Step1, Step2, curriculum and Events.
Online Community
Our Facebook community was started for spouses, significant others, partners, parents, siblings, as well as friends of our current medical students. We share regular updates about what students are learning, on-campus events, videos of student events, news articles, the annual academic calendar, answer questions from loved ones, and more!
Our team personally understands the importance of feeling connected to what is happening with your medical student, so we aim for this community to support you, while you support your student!
To contact the Friends and Family Network or ask a question, please email @email or sign up to connect with us.