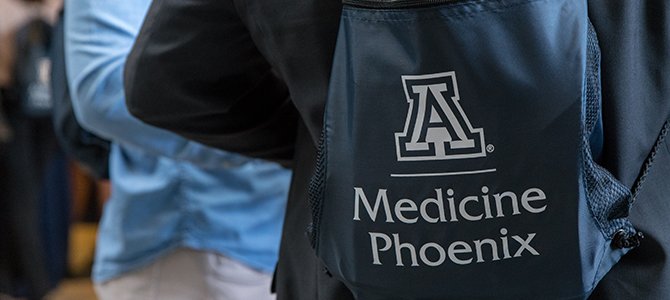 Revisit Day
To be the type of physician you want to be, it is important that you find the right fit for medical school. We understand the critical importance of this decision, which is why we offer accepted students an opportunity to return to campus for a Revisit Day to get a true sense of what it is like to attend medical school at the UA College of Medicine – Phoenix.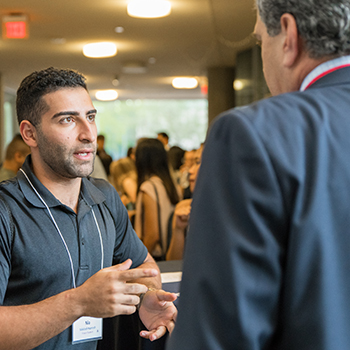 Revisit Day is personalized to give you a chance to get a better feel for our campus and culture by attending classes, meeting faculty, having lunch with current students and reconnecting with the Office of Admissions to address any questions you may have about our college and community.
Each admission season, we typically select 10 – 15 days from the first-year curriculum that we feel reflect the broad range of academic opportunities available to our medical students. These vary from season to season, but in previous years, accepted students have attended case-based instruction courses, active learning sessions, patient panels, the Scholarly Project Symposium and have even observed our Match Day celebration.
We do our best to pair every attendee with a first-year medical student based on common connections such as undergraduate major, state of residence or even specific hobbies and interests. This serves to break the ice, allowing you to feel right at home the moment they arrive on campus.
Second Look
In addition to our Revisit Day, Second Look provides accepted students an extended preview of what they will experience as a student at the College of Medicine – Phoenix. The overall goal of Second Look is to provide greater insight into:
Our academic programming – Early clinical exposure opportunities, dual-degree options, available certificates of distinction and one of the truly unique aspects of our curriculum — the Scholarly Project.
Our clinical sites distributive model – During Second Look, we will tour a few clinical sites and will provide opportunities for you to speak with our students, residents and alumni that have completed rotations at these sites serving various patient populations.
Our current faculty and students – See how we have built a supportive community centered on inclusive excellence and a student-centered culture.
Our extracurricular activities – Medical school is demanding, but we offer student support services, a wellness program and over 85 clubs and organizations to help balance it all. Second Look gives you the opportunity to see what we have to offer.
Your future home – Our medical school is in the heart of downtown Phoenix on the ever-expanding Phoenix Biomedical Campus. Come see, first-hand, the energy that is created by our shared space with The Translational Genomics Research Institute (TGen), Arizona State University, Northern Arizona University and the University of Arizona Colleges of Pharmacy, Nursing, Public Health and Business, to name a few.
Lastly, choosing the right community and medical school can also be a joint decision with a spouse, significant other or family member. With this in mind, we will host events on campus for supporters of accepted students. More information regarding our two days together will be provided to you at registration.