Overview
The MD/PhD Program is designed to train students planning careers in academic medicine or biomedical research. Through the collaborative efforts of the College of Medicine and the Graduate College, research-intensive training is pursued through the Clinical Translational Sciences PhD program.
Program History and Highlights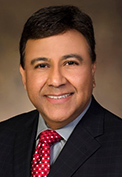 The MD/PhD Program was established in 1990 at the UA College of Medicine – Tucson to provide dual training in medicine and research to talented individuals interested in careers as physician-scientists working in the public and private sectors. The Program was expanded and revitalized in 2013 under new leadership within the University of Arizona Health Sciences. In 2016 as Interim Dean, Kenneth S. Ramos, MD, PhD established the MD/PhD Program at the UA College of Medicine – Phoenix. Information on Current Students and Recent Graduates of the UA Tucson MD/PhD Program.
Dr. Ramos was appointed MD/PhD program director in September 2014. His primary goal is to build on the tradition of research excellence at the University of Arizona by establishing an outstanding program that provides seamless navigation through the medical and graduate curriculum, enhances opportunities for student/faculty interactions, and promotes strategic institutional investments to ensure growth and sustainability of the program.