Overview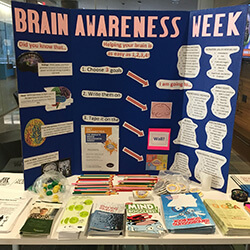 The Student Interest Group in Neurology (SIGN) is a network of more than 150 chapters in medical schools across the United States and Canada, including here at the University of Arizona College of Medicine – Phoenix. SIGN fosters medical student interest in neurology by providing opportunities to participate in clinical, research and service activities in neurology — increasing the students' neurologic knowledge and creating an interest in the American Academy of Neurology (AAN). The group hosts various activities throughout the year and particularly during Brain Awareness Week in March. Past activities have included trivia nights, guest speakers, dance with Parkinson's, art workshops that focus on creativity, movie nights and journal clubs. Student members of this interest group often become student members of the AAN.
Membership Benefits
Socialize with students, residents, and faculty who share your interest neurology.
Shadow neurologists.
Attend patient presentations and seminars.
Develop experience, leadership and valuable contacts.
Join the nationwide SIGN network.
Meet other SIGN members at the Annual Meeting.
Apply for SIGN scholarships:

$3,000 Summer Research Scholarship.
$1,000 AAN Annual Meeting Scholarship.

Free AAN Membership.
Plus, each SIGN chapter receives $400 a year in expense reimbursement.
Cindy Standley, PhD, and Paul Bendheim, MD, are the SIGN advisors.