Banner – University Medical Center Phoenix
Banner – University Medical Center Phoenix, formerly Banner Good Samaritan Medical Center, is a nationally recognized academic medical center. The world-class hospital is focused on coordinated clinical care, expanded research activities and nurturing future generations of highly trained medical professionals who serve the community.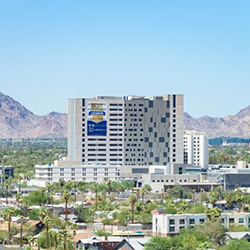 The Phoenix campus, long known for excellent patient care, is the new home for medical discoveries, thanks to our collaboration with the University of Arizona College of Medicine – Phoenix.
Patients with the most complex to the most common medical conditions seek us out for care. Our Transplant Services Team saves thousands of lives each year with our advancements in caring for patients needing life-saving organ transplants and our Stroke Center makes a difference in the lives of patients with diseases, disorders and injuries of the brain, spine and nervous system.
Inpatient Beds – 685.
Annual Admissions – 34,432.
ED Visits – 57,835.
Inpatient Surgeries – 18,656.
Outpatient Surgeries – 9,789.
Phoenix Veteran's Administration Health Center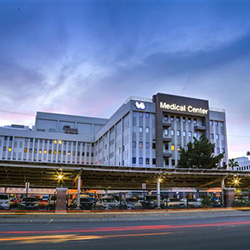 The Phoenix VA Health Care System (PVAHCS) — comprised of the Carl T. Hayden Veterans Affairs Medical Center and seven clinics — is categorized as a Clinical Referral Level 1 facility. The VA Medical Center provides acute medical, surgical and psychiatric inpatient care, as well as rehabilitation medicine and neurological care to the more than 322,002 Veterans who reside in the facility's primary service area.
Inpatient Beds – 129.
Mental Health Beds – 48.
Inpatient Rehab Beds – 20.
Nursing Home Beds – 102.
Phoenix Children's Hospital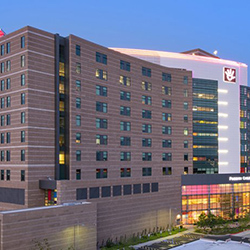 Phoenix Children's Hospital is a state of the art tertiary care standalone children's hospital. As Arizona's first standalone children's hospital, it has long been a leader in providing quality care to both primary care patients and children with significant medical needs. Staff and faculty from all major pediatric surgical and medical subspecialties work at the hospital, and the hospital is a tertiary care center for the rest of Arizona. During residency, significant exposure to subspecialty pediatrics will occur while at Phoenix Children's.
Annual Admissions – 18,286.
Outpatient Visits – 216,241.
Pediatric ED Visits – 78,612.
Pediatric Surgical Cases – 16,227.