Diversity Leadership Council
Guy Reed, MD, MS – Dean, College of Medicine – Phoenix
Judy Apostolik –  Executive Director, Financial Affairs
Glen Fogerty, PhD – Associate Dean, Admissions and Recruitment
Rayna Gonzales, PhD – Associate Professor, Basic Medical Science.
Susan Kaib, MD, FAAFP – Associate Dean, Student Affairs.
Guadalupe Federico, PhD – Assistant Dean, Faculty Affairs and Development.
Cheryl O'Malley, MD – Interim Vice Dean, Academic Affairs.
Allison Otu – Senior Director, Marketing and Communications.
Diversity Committee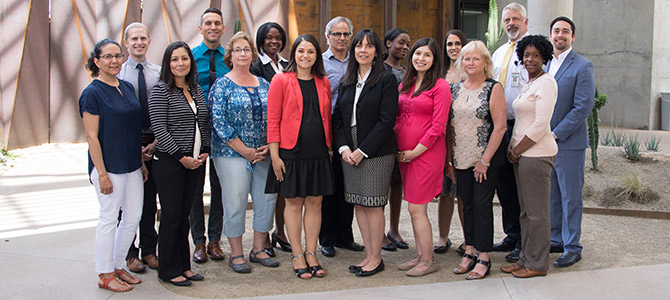 Faculty:
Jonathan Cartsonis, MD – Director, Rural Health Professions Program.
Ricardo Correa, MD - Program Director, Endocrinology, Diabetes and Metabolism Fellowship.
Rebecca Fisher, PhD – Associate Professor, Basic Medical Sciences.
Maria Manriquez-Sanchez, MD – Interim Associate Dean, Clinical Curriculum.
Linda Nelson, MD, PhD – Director, Faculty Development and Block Director, REBLS.
Sara Stimson Riahi, MD – Clinical Assistant Professor.
Staff:
Amy Boise – Assistant Site Coordinator, College of Nursing, Phoenix Biomedical Campus.
Dude Coudret, MSEd – Learning Specialist, Student Development.
Jenna Delbalso – Program Manager, Faculty Affairs.
Stephanie Halstead - Assistant Director, Special Programs.
Natalie Melchiorre – Coordinator, Student Services, College of Pharmacy, Phoenix Biomedical Campus.
Scott Reikofski, EdD – Director, Student Affairs.
Gabriela Cardenas – Administrative Associate, Pathway Scholars Program.
Jessica Tualla – Associate Director, Human Resources.
Chip Young - Coordinator, Pipeline Initiatives.
Students:
Cecilia Cruz – MS2.
Sukhdeep Khurana – MS2.