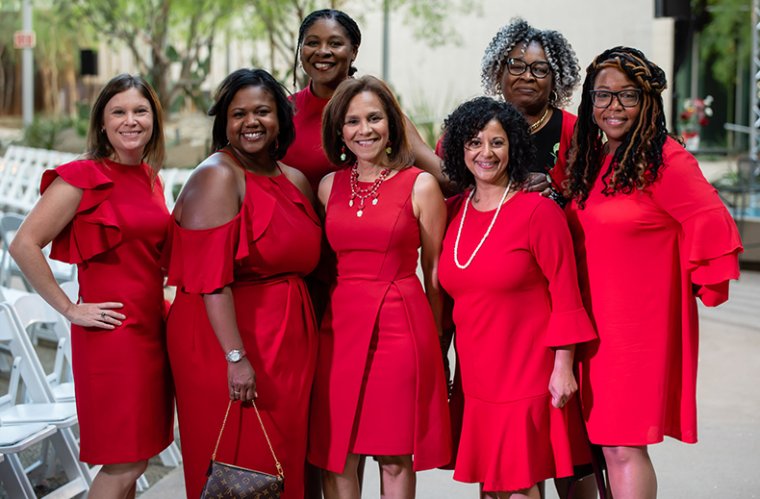 Red Dress Event Raises Funds for Women's Heart Health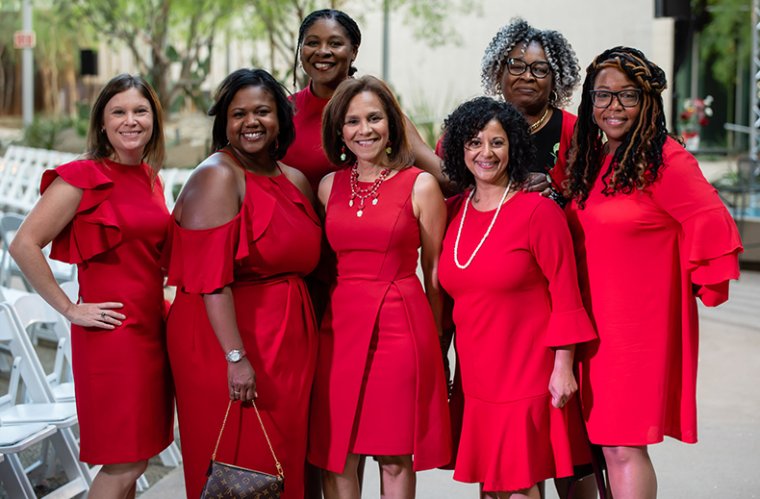 College of Medicine – Phoenix Hosts Annual Event to Raise Awareness About Heart Disease
More than 200 guests learned about preventing heart disease at the 11th annual Red Dress Cocktail Party April 3 at the University of Arizona College of Medicine – Phoenix. Attendees were challenged to educate their friends and family about cardiovascular disease.
The statistics are sobering: One in two women in the U.S. suffers from heart disease, and last year, 400,000 women died from a cardiovascular disease such as a heart attack or stroke.
The fashion show and benefit was started by Maria Benson, who lost three women in her family to heart attacks, including her mother and grandmother. The event raises money to support heart disease prevention efforts of Martha Gulati, MD, MS, division chief of Cardiology at the college and physician executive director for the Banner University Medicine Cardiovascular Institute in Phoenix.
"In our medical community, we have undertreated women for heart disease, we have underestimated a woman's risk for heart disease and we continue to underdiagnose women for heart disease," Dr. Gulati said. "We understudy women and their hearts. If we don't study women and their hearts, we won't know what's different between them and men. And we will continue to watch our mothers, our sisters, our daughters and friends die from heart disease."

Guy Reed, MD, MS, dean of the UA College of Medicine – Phoenix and a cardiologist, said he has worked most of his life to save lives and improve the quality of life for people with cardiovascular disease.
"Prevention is a lot better than treatment," he said. "The good news is that 80 percent of heart disease can be prevented. And if you're unlucky enough to have one cardiovascular event, you can still prevent a second event through prevention. You can live longer and with greater fulfillment."
The event armed women with information to share with friends and family about preventing heart disease, the leading cause of death in the U.S.
Dorothy Finnie, who has attended the benefit for nine years, commended Maria Benson for her vision and commitment.
"I tell everyone I know about this, and that's why she's here, pointing to her friend, Deanna Castle," she said. "We will definitely be going to get our hearts looked at."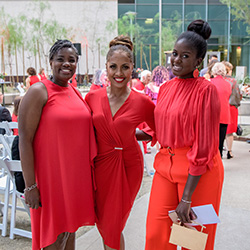 Castle said she enjoyed the fashion show, which was sponsored by Macy's, but the best part was the information she received about keeping her heart healthy.
Luce Kassi, a fourth-year student at the medical school, said while her chosen specialty of obstetrics/gynecology might not be cardiology, her job will be to take care of women and their health.
"Women don't present with the typical signs of heart disease, so raising awareness is really important," she said.
Dr. Gulati is a tireless advocate for more clinical trials and research for women who have suffered a stroke or a heart attack.
"We need to talk to women, we need to screen women and we need to educate women, so that they can watch their children grow up," she said. "Please disseminate this information, educate and advocate."
Dr. Gulati's Cardiovascular Institute plans to use funds raised to provide outreach about careers in medicine and cardiology to young women in local high schools.
Benson said it warms her heart to witness the support she receives year after year for the Red Dress Cocktail Party.
"We must protect our hearts and take power over our health," she said. "Please reshare this information with your community, your friends at your hair salon and your happy hour. One person can make a difference."
In addition to Macy's, sponsors included Banner Health, Conceptually Social Catering, Flawless Collectives, The Links, Women's Business Enterprise Council – West, Solis Mammography and The Boyer Company.
About the College
Founded in 2007, the University of Arizona College of Medicine – Phoenix inspires and trains exemplary physicians, scientists and leaders to optimize health and health care in Arizona and beyond. By cultivating collaborative research locally and globally, the college accelerates discovery in a number of critical areas — including cancer, stroke, traumatic brain injury and cardiovascular disease. Championed as a student-centric campus, the college has graduated 500 physicians, all of whom received exceptional training from nine clinical partners and more than 2,000 diverse faculty members. As the anchor to the Phoenix Biomedical Campus, which is projected to have an economic impact of $3.1 billion by 2025, the college prides itself on engaging with the community, fostering education, inclusion, access and advocacy.