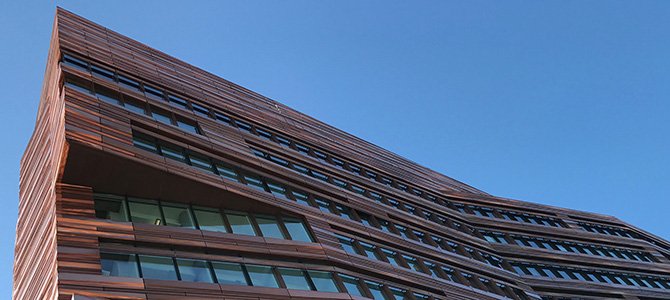 Accolades Begin for New UA Research Building in Downtown Phoenix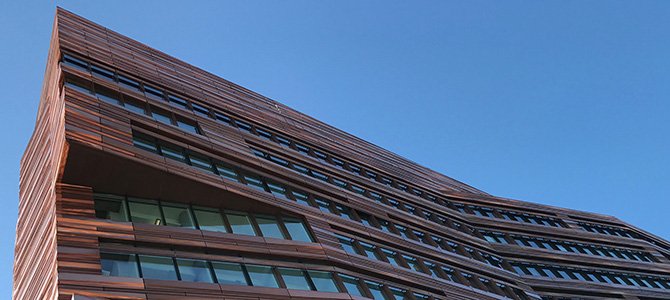 UA Biomedical Sciences Partnership Building Wins Two Awards from Real Estate and Construction Industries
The University of Arizona Biomedical Sciences Partnership Building has received two awards for best new educational building.
Engineering News-Record, a weekly magazine for the construction industry, named it the "Best of the Best Higher Education/Research Project." The competition identifies the nation's "pinnacle of design and construction achievement" for projects completed between May 2016 and May 2017.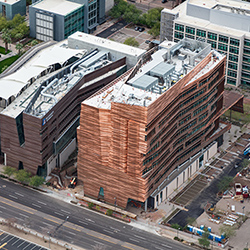 The building also won the Education category in awards given by AZRE and AZ Big Media. The Real Estate & Development (RED) awards highlight impressive projects completed in the last year.
The $136 million, 10-story, 245,000-square-foot Biomedical Sciences Partnership Building houses research labs of faculty and scientists at the University of Arizona College of Medicine – Phoenix and its partners.
DPR Construction • Sundt Construction, Inc., a joint venture, managed construction of the building, which opened in February 2017. Architects for the project were CO Architects of Los Angeles and Ayres Saint Gross of Phoenix.
More than 700 projects were submitted in 20 categories for the ENR awards. The winning projects were featured in the March issue of ENR. All winners will be celebrated at an awards banquet in New York City on April 6.
Among the first tenants in the structure are the college's Center for Applied NanoBioscience and Medicine; the Research and Translational Flow Cytometry and Immunology Core Laboratory; the cancer research lab of  William Cance, MD, deputy director of the UA Cancer Center; the cardiovascular research lab of  Guy L. Reed, MD, MS, dean of the medical school; the UA Institute of Molecular Medicine, in partnership with Phoenix Children's Hospital; and the UA Pediatric Infectious Disease Research Laboratory, another UA College of Medicine – Phoenix and Phoenix Children's Hospital partnership.
The UA has invested nearly $450 million in building projects on the downtown Phoenix Biomedical Campus and has nearly 1 million square feet of capital projects. In addition to the UA College of Medicine – Phoenix, the campus offers classes in the UA Colleges of Nursing, Pharmacy, Public Health and the Eller College of Management.
About the College
Founded in 2007, the University of Arizona College of Medicine – Phoenix inspires and trains exemplary physicians, scientists and leaders to optimize health and health care in Arizona and beyond. By cultivating collaborative research locally and globally, the college accelerates discovery in a number of critical areas — including cancer, stroke, traumatic brain injury and cardiovascular disease. Championed as a student-centric campus, the college has graduated 665 physicians, all of whom received exceptional training from nine clinical partners and more than 2,600 diverse faculty members. As the anchor to the Phoenix Bioscience Core, which is projected to have an economic impact of $3.1 billion by 2025, the college prides itself on engaging with the community, fostering education, inclusion, access and advocacy.