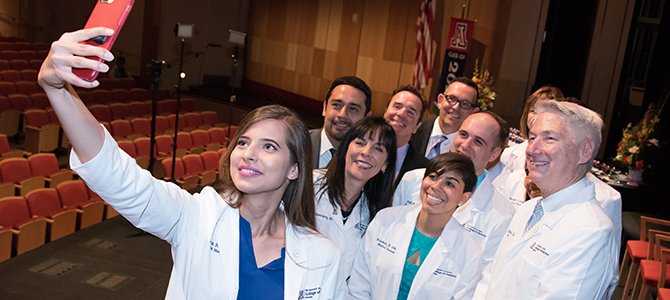 All In for Students Campaign Raises Funds For Scholarships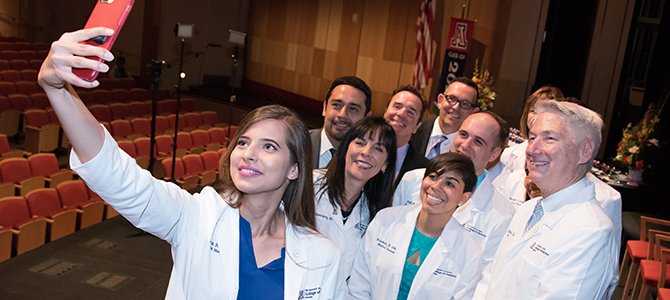 The All In For Students Campaign raises scholarship funds for students at the University of Arizona College of Medicine – Phoenix. Last year, faculty and staff from the college donated enough money to award scholarships to 10 aspiring physicians. This year, the goal is to provide 15 scholarships.
First-year student Diep Nguyen, who received a scholarship from last year's campaign, said he was honored and grateful to receive an award.
"Each day I tell myself how fortunate I am to be at a school where everyone truly wants you to succeed. The generosity is alleviating the financial cost of my education, which allows me to better focus my energy and resources toward becoming a good physician."
In addition to asking for support from faculty and staff, this year's campaign hopes to reach donors from outside the college.
All gifts, large and small, will make a difference. Giving is easy. Make an online gift or for University of Arizona employees, download a form to give via payroll deduction or check (PDF).
For more information, please contact Jeanette Gemoll, 602-827-2011.
About the College
Founded in 2007, the University of Arizona College of Medicine – Phoenix inspires and trains exemplary physicians, scientists and leaders to optimize health and health care in Arizona and beyond. By cultivating collaborative research locally and globally, the college accelerates discovery in a number of critical areas — including cancer, stroke, traumatic brain injury and cardiovascular disease. Championed as a student-centric campus, the college has graduated 500 physicians, all of whom received exceptional training from nine clinical partners and more than 2,000 diverse faculty members. As the anchor to the Phoenix Biomedical Campus, which is projected to have an economic impact of $3.1 billion by 2025, the college prides itself on engaging with the community, fostering education, inclusion, access and advocacy.