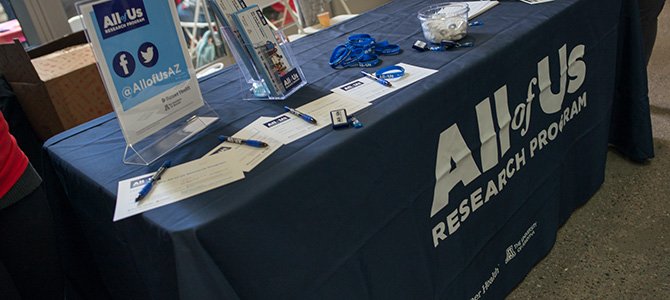 All of Us Research Program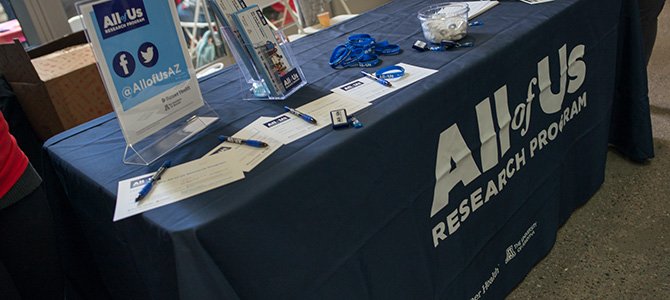 The University of Arizona Health Sciences and Banner Health have received a $9 million award from the National Institutes of Health for the All of Us Research Program. The program, which will total $60 million over five years, represents the largest NIH award in Arizona history and is tied to an effort to enroll 1 million or more participants across the country. The national launch of the All of Us Research Program is May 6.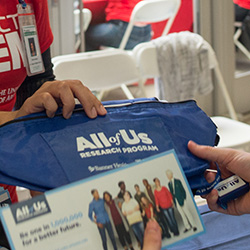 The All of Us Research Program seeks to improve treatment and prevention strategies based on people's individual differences in lifestyle, environment and genetics. Volunteers will contribute a wide range of health, environment and lifestyle information as the program aims to help usher in a new era of medicine in which researchers, health care providers and patients work together to develop individualized care. The NIH has taken extensive measures to ensure protection of patient information.
Enrollment is open to individuals of all health statuses. Unlike a single research study focused on a specific disease or community, All of Us will serve as a national research resource to inform thousands of studies, covering a wide range of health conditions, according to NIH.
"The All of Us Research Program will change the way we do research. Participants will be partners in research, not subjects, and will have access to a wide range of study results. What we're doing with the All of Us Research Program is intersecting with other fundamental changes in medicine and research to empower Americans to live healthier lives," said Dr. Francis S. Collins, director of the National Institutes of Health.
Significantly, the UA Health Sciences/Banner effort focuses on the inclusion of Hispanic/Latino and American Indian/Alaskan Native participants and communities to gain greater insight on disease prevention and treatment, making these advances available to traditionally underserved populations, regardless of race, ethnicity or geography. Poised to become a national leader in addressing health disparities, the UA Health Sciences is expanding research, education and clinical initiatives to promote health equity and wellness within all communities.
The NIH provided the initial award for the program (then called the NIH Precision Medicine Initiative Cohort Program) to the UA Health Sciences and Banner Health in June 2016, beginning with an initial $4 million award. The award originally was planned to total $43.3 million over five years. Renewed through March 2018, that award totaled $8.7 million before it transitioned to this new phase. The transition to the new $60 million award for the All of Us Research Program will provide the UA Health Sciences-Banner Health partnership as much as $12 million per year through 2023, pending progress and the availability of funds, according to NIH.
The UA Health Sciences and Banner Health were among the first organizations in the nation to launch the All of Us Research Program, in collaboration with health care provider organizations and other partners across the nation. The national program began beta testing in May 2017 and has enrolled more than 20,000 participants to date.
"The strong partnership between the University of Arizona and Banner Health is transforming health care in our state and region and establishing a new paradigm for precision medicine," said UA President Robert C. Robbins. "This landmark research effort aims to improve health outcomes, fuel development of new treatments for disease and catalyze a new era of evidence-based, precise preventive care and medical treatment options. We are committing to ensuring the program reflects and best serves our diverse population."
Dr. Akinlolu Ojo, principal investigator for the award, said, "The unique demographics of Arizona present unparalleled opportunities for research in precision health related to and in partnership with Hispanic, American Indian and aging populations and communities. We hope this major effort will benefit the citizens of Arizona and the Southwest in tangible and visible ways."
Additional principal investigators for the award are Dr. Andreas Theodorou, chief clinical education officer for Banner Health, and Dr. Eric M. Reiman, executive director of the Banner Alzheimer's Institute, chief executive officer for Banner Research and UA professor of psychiatry. 
A great need exists for this landmark effort, and the Arizona project serves a pivotal role. To develop tailored treatments and prevention strategies, health researchers need more data about the individual differences that make all of us unique, according to the NIH. By enrolling in the All of Us Research Program and sharing information, volunteers can help ensure their community is included in the studies that may lead to improved health for future generations, according to NIH.
The All of Us Research Program will build one of the world's largest and most diverse datasets for precision health research. With data from 1 million or more participants, researchers will seek to:
Develop ways to measure risk for a range of diseases based on environmental exposures, genetic factors and interactions between the two.
Identify the causes of individual differences in response to commonly used drugs.
Discover biological markers that signal increased or decreased risk of developing common diseases.
Empower study volunteers with information to improve their own health.
The All of Us Research Program hosts nine sites across central and southern Arizona, with additional sites expected to open in the coming months. Learn more at AllofUsAZ.org or call toll-free 877-268-2684.
Media Contact
George Humphrey
UA Health Sciences
520-626-7255
Topics
About the College
Founded in 2007, the University of Arizona College of Medicine – Phoenix inspires and trains exemplary physicians, scientists and leaders to optimize health and health care in Arizona and beyond. By cultivating collaborative research locally and globally, the college accelerates discovery in a number of critical areas — including cancer, stroke, traumatic brain injury and cardiovascular disease. Championed as a student-centric campus, the college has graduated 669 physicians, all of whom received exceptional training from nine clinical partners and more than 2,600 diverse faculty members. As the anchor to the Phoenix Bioscience Core, which is projected to have an economic impact of $3.1 billion by 2025, the college prides itself on engaging with the community, fostering education, inclusion, access and advocacy.