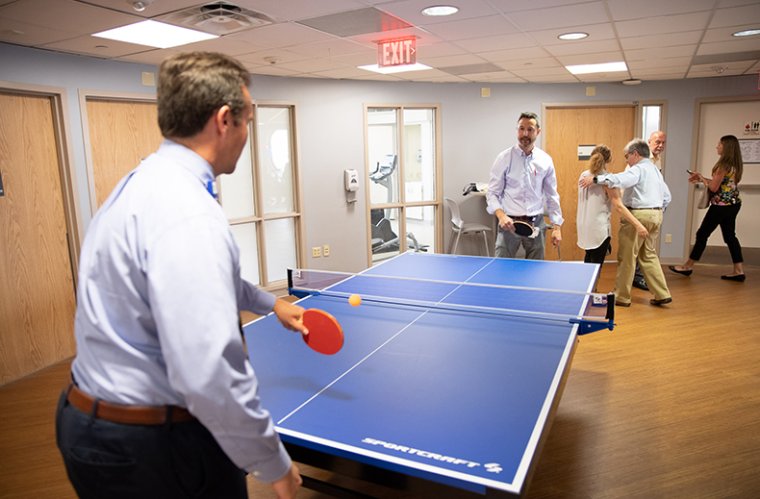 Banner - University Medical Center Phoenix Opens Wellness Center to Combat Physician Burnout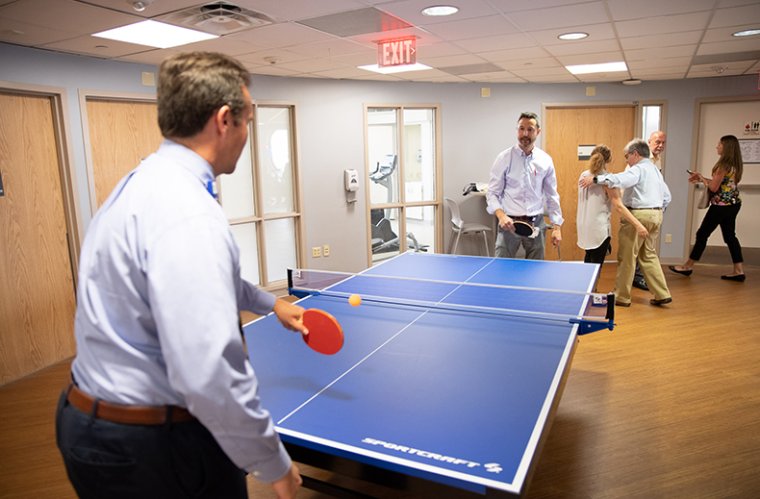 UA College of Medicine – Phoenix Program Gives Residents, Students a Place to Recharge
The UA College of Medicine – Phoenix has opened a wellness space for its students and residents on the 12th floor of Banner – University Medical Center Phoenix as one piece of an overall program to teach future physicians how to take care of their emotional health.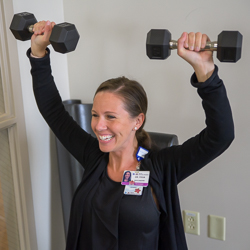 According to a Medscape survey, 42 percent of 15,000 practicing physicians in the U.S. feel burned out, yet they are less likely to seek mental health treatment than the general population.
The project at Banner was designed by a graduate medical education physician wellness task force over three years. The 4,000-square-foot center has spaces for spiritual, physical and mental health, and includes a gym, yoga studio, kitchen, lounge, showers, locker room, work space, quiet rooms, ping pong table, foosball table and a lunch area.
"The new space provides a physical reminder for house staff to take care of themselves and to place their well-being as a priority," said Daniel Drane, EdD, director of the Wellness Program at the University of Arizona College of Medicine – Phoenix, which oversees graduate medical education programs at Banner.
The facility was built after many requests from residents and fellows for a space where they can relax.
Steven Brown, MD, program director of the Family Medicine Residency and chair of the graduate medical education physician wellness task force, said medical educators are recognizing that more must be done early in a physician's education to help them build healthy self-care habits.
"We are taking incredibly idealistic people that are incredibly smart, and we put them into a system that can be really challenging and effect our ability to continue to be caring, loving physicians," he said.
"Wellness is a discipline that takes time to figure out," Dr. Drane said. "This space gives them the option and opportunity to work on their self-care skills. The more well the physician, the better care and assistance they provide patients."
Residents have loved the addition.
Aaron Silver, MD, a fourth-year resident in internal medicine/pediatrics, said the space has a great view, offers an opportunity to work out in the middle of the day and provides a place for residents from different programs to interact.
"It is so key to blow off steam whenever you can, and working out daily makes it easier to take care of our patients later in the day," he said. "It also allows us to go home and enjoy our home time after work."
Kelly Zucker, DO, a third-year internal medicine resident, said she uses the center a few times each week to unwind for a few minutes away from the rush of the hospital floor, work out at the gym or play ping pong. She said she often sees classmates using the quiet spaces.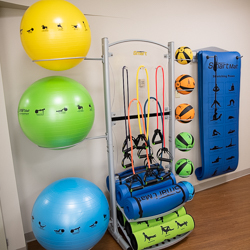 Mazen Beydoun, DO, a second-year internal medicine resident, said the center is important because it helps with overall wellness. "Little by little, things add up. I visit it every day to work out after work or catch up with other residents. It's a fantastic addition to the program," he said.
"Wellness is something that you need to choose to pursue and having a space like this allows you to do that," said Susan Kaib, MD, associate dean of Student Affairs at the college.
The new center is just one of several wellness projects at the College of Medicine – Phoenix. Dr. Drane also works with the college's faculty to include wellness in the medical school curriculum to build resiliency in students and residents. The college sponsors a monthly Wellness Market from October through April where healthy foods are offered for sale and students and faculty are on hand to share healthy eating habits. Incoming first-year students attend a three-day retreat where they meet members of their own wellness team, an informal mentoring group who will stay connected all four years of medical school.
About the College
Founded in 2007, the University of Arizona College of Medicine – Phoenix inspires and trains exemplary physicians, scientists and leaders to optimize health and health care in Arizona and beyond. By cultivating collaborative research locally and globally, the college accelerates discovery in a number of critical areas — including cancer, stroke, traumatic brain injury and cardiovascular disease. Championed as a student-centric campus, the college has graduated 593 physicians, all of whom received exceptional training from nine clinical partners and more than 2,400 diverse faculty members. As the anchor to the Phoenix Biomedical Campus, which is projected to have an economic impact of $3.1 billion by 2025, the college prides itself on engaging with the community, fostering education, inclusion, access and advocacy.