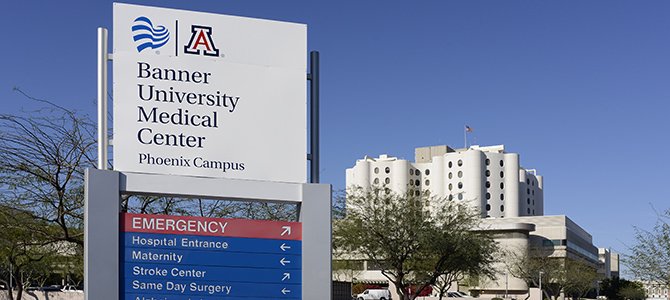 Banner University Medicine Begins New Era in Academic Medicine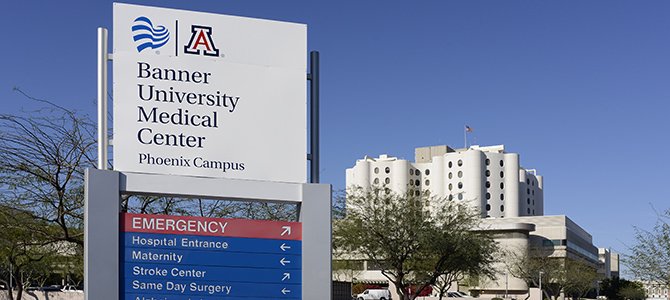 Under single aligned leadership and working toward a single goal of creating nationally ranked academic medical centers, Banner Health officially merged with what was formerly known as the University of Arizona Health Network to create the Banner – University Medicine Division.
This new division includes three hospitals:
Banner – University Medical Center Tucson,
Banner – University Medical Center South and
Banner – University Medical Center Phoenix.
The Banner – University Medicine Division supports the growing needs of the University of Arizona Colleges of Medicine in Phoenix and Tucson as they attract and train more physicians and will enhance and elevate academic and medical excellence to national leadership levels.
"We are convinced that our private/public partnership will help play a lead role in the transformation of health care in our state and beyond. The academic rigor of Arizona's premier medical education program will be combined with the clinical delivery excellence and population health know-how of the state's leading health system. This is a formula that can elevate both the quality and management of care for our state's citizens along with the reputation of Arizona as a national leader in health care," said UA President Ann Weaver Hart.
Across its three campuses, this division performs life-changing research and provides graduate medical education to those who go on to touch lives across Arizona, the nation and the world. The medical centers are a vital part of Banner Health's mission to make a difference in people's lives through excellent patient care.
As part of the Banner – University Medicine Division, the Banner – University Medical Group (formerly University of Arizona Physicians), with the collaboration and support of committed physicians, other caregivers and support staff, the future of Banner – University Medicine will be defined by clinical excellence, exceptional patient care and outstanding academic medicine. Kathy Bollinger will serve as the Banner – University Medicine Division president.
Banner Health has had a long history of affiliation with the Arizona Health Sciences Center and its Colleges of Medicine in both Phoenix and Tucson. Over the decades, hundreds of UA medical school graduates have furthered their medical education in residencies at Banner – University Medical Center Phoenix, formerly Banner Good Samaritan.
Now, Banner's three academic medical centers and the UA College of Medicine faculty will oversee graduate medical education for roughly 1,000 physicians statewide each year in a variety of residency and fellowship programs. All eligible programs are accredited by the Accreditation Council for Graduate Medical Education, which establishes exacting national standards for approval and assessment of graduate medical education programs.
The UA Graduate Medical Education program at Banner – University Medical Center Tucson has more than 600 residents and fellows in 60+ medical specialties and subspecialties. The UA Graduate Medical Education program at Banner – University Medical Center South, also in Tucson, provides residencies in Emergency Medicine, Family Medicine, Internal Medicine, Psychiatry, Neurology and Ophthalmology, as well as a Medical Toxicology fellowship, to approximately 110 physicians. Residents at this facility specialize in caring for underserved communities.
The Graduate Medical Education program at Banner – University Medical Center Phoenix was started in 1951 and currently has 282 residents and fellows, with eight residencies and nine fellowships, making it the largest curriculum in the Phoenix metropolitan area. The Phoenix hospital has a well-established relationship with the UA College of Medicine – Phoenix, where many Banner faculty also teach.
At the heart of this partnership is the development of academic medicine and with that, a burgeoning academic medical center – where discoveries through research and advances in patient care are brought to life. There will be many positive changes and opportunities in both Tucson and Phoenix as this partnership is explored in pursuit of clinical synergies, the advancement of clinical and translational research and the delivery of the highest quality health professional training programs.
Topics
About the College
Founded in 2007, the University of Arizona College of Medicine – Phoenix inspires and trains exemplary physicians, scientists and leaders to optimize health and health care in Arizona and beyond. By cultivating collaborative research locally and globally, the college accelerates discovery in a number of critical areas — including cancer, stroke, traumatic brain injury and cardiovascular disease. Championed as a student-centric campus, the college has graduated 745 physicians, all of whom received exceptional training from nine clinical partners and more than 2,600 diverse faculty members. As the anchor to the Phoenix Bioscience Core, which is projected to have an economic impact of $3.1 billion by 2025, the college prides itself on engaging with the community, fostering education, inclusion, access and advocacy.