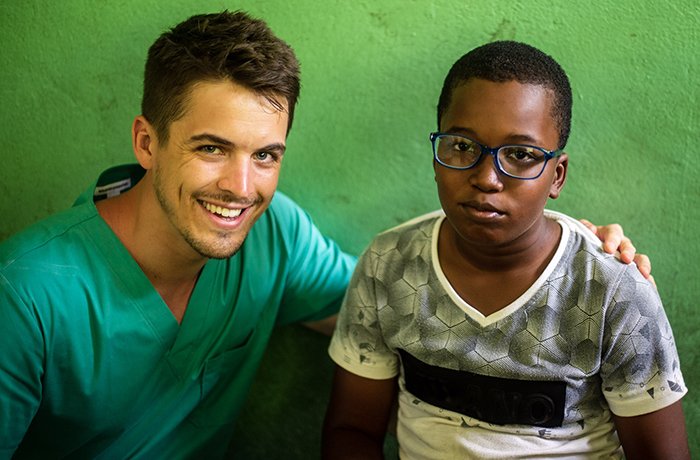 Bringing Diagnostic Tools to Rural Villages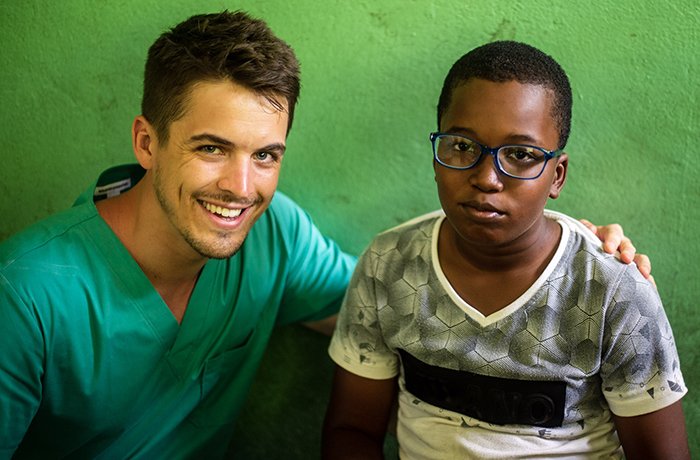 Scholarly Project Uses Smart Phone-Based Diagnostic Tools in Global Health Population
A second-year medical student at the University of Arizona College of Medicine – Phoenix is changing diagnostic care for patients in rural villages in the Dominican Republic.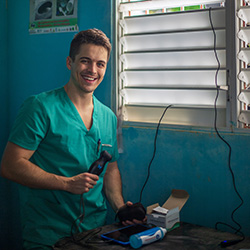 Scott Litton traveled to the Dominican Republic with 14 of his classmates and four faculty members on May 26 through June 1, 2019, to provide care to more than 300 patients at four rural bateys. As part of Litton's Scholarly Project, he evaluated the use of smartphone-based clinical diagnostic tools and their acceptance in a global health population, as well as their ability to improve diagnostic confidence and patient care.
The smartphone-based diagnostic tools used in this year's global health trip included a point-of-care ultrasound, retinal camera, digital otoscope and mobile EKG, visual acuity check with simulation and high-definition dermascope. This is the first-time students used these tools in the rural Dominican Republic bateys.
"Global health physicians and medical students have the opportunity to provide care to patients who are often hesitant to seek medical care or don't have access to care," said David Beyda, MD, director of the college's Global Health Program. "By using these smartphone diagnostic tools like Scott implemented in the Dominican Republic, physicians can make quick bedside diagnostics that will improve the treatment and quality of care for patients in rural, international areas."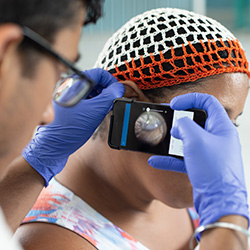 Although physicians recognize the need for these diagnostic tools in global health environments, the cost, logistics and maintenance of the devices have limited their use. With recent advancements in technology, diagnostic tools are now less expensive and can be accessed through a smartphone, making it an ideal time to integrate them into a global health setting.
"On our trip, we evaluated smartphone-based diagnostic tools that might improve diagnosis and screening for patients that otherwise would not have access to clinical or surgical care," Litton said. "These tools proved to be valuable assets in the clinic and helped us provide better quality care to our patients."
Prior to the student's trip to the Dominican Republic, Teresa Wu, MD, director the Emergency Ultrasound Program and Fellowship and director of the Simulation Curriculum at the college, taught medical students point-of-care ultrasound since exposure to this technology is not part of the first-year curriculum. On the trip, Litton conducted 76 surveys to analyze acceptance of the smartphone diagnostic tools among patients and students.
"As an ophthalmologist, I always say that 'vision is more than eyesight,' " said Robin Ross, MD, MPH, director of Global Outreach at the college and a volunteer physician on the Dominican Republic trip. "Our ultimate vision is improved health care for all and in global health, it is often improving the health of the poorest in low-income countries. As a surgeon, I recognize that 9 out of 10 people living in low-income countries lack access to surgical care. We believe in taking the best advances we have in medicine and making them portable. Next, we need to figure out if they work and are accepted by the local population. Scott has taken this idea and made it the basis of his scholarly project."
Litton became interested in the project because of his global health experiences prior to medical school, which included excursions in Central and South America. He said the trip to the Dominican Republic was a great experience and he was honored to serve the people who live there.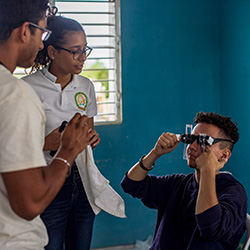 "Our plan going forward is to refine and perfect the smartphone-based tool kit and pre-trip training to help improve future College of Medicine – Phoenix trips to the Dominican Republic," Litton said. "We plan to publish the data we gathered on the acceptance and effectiveness of our smartphone-based tool kit to help others involved in global health improve their quality of care. It is an exciting time to be involved in global health as technology becomes more portable and applicable in rural health care settings." 
If you are interested in donating and supporting medical students on future trips to the Dominican Republic, please visit the UA Foundation page and specify under the comments that you'd like the proceeds to go to the Global Health Interest Group.
About the College
Founded in 2007, the University of Arizona College of Medicine – Phoenix inspires and trains exemplary physicians, scientists and leaders to optimize health and health care in Arizona and beyond. By cultivating collaborative research locally and globally, the college accelerates discovery in a number of critical areas — including cancer, stroke, traumatic brain injury and cardiovascular disease. Championed as a student-centric campus, the college has graduated 745 physicians, all of whom received exceptional training from nine clinical partners and more than 2,700 diverse faculty members. As the anchor to the Phoenix Bioscience Core, which is projected to have an economic impact of $3.1 billion by 2025, the college prides itself on engaging with the community, fostering education, inclusion, access and advocacy.