Chasing the Dragon
College Hosts FBI Phoenix Citizens Academy Panel on Opioid Addiction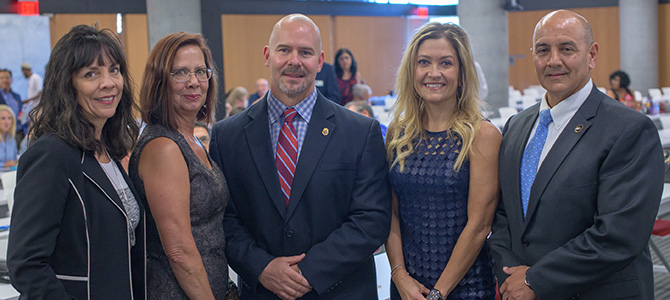 The Federal Bureau of Investigation and Drug Enforcement Administration teamed up with the University of Arizona College of Medicine – Phoenix, Arizona Department of Health Services and Community Bridges to educate people and answer questions about the continuing opioid epidemic.
Sponsored by the FBI Phoenix Citizens Academy Alumni Association, the August forum featured the screening of "Chasing the Dragon: The Life of an Opiate Addict" and a question-and-answer session with experts that included Maria Manriquez-Sanchez, MD, interim dean for Clinical Curricular Affairs and director of the college's Pathways Program.
Doug Coleman, special agent in charge for the DEA office in Phoenix, said current opioid abuse is the worst he's seen in 30 years, and he does not believe the epidemic has peaked. Each day, 115 people die from an opioid overdose in the U.S., he said.
In addition to Dr. Manriquez-Sanchez and Coleman, the panel included Michael DeLeon, special agent in charge of the Phoenix FBI; Tomi St. Mars, chief of the Office of Injury Prevention at the Arizona Department of Health Services, and Stephanie Siete, public information officer for Community Bridges Inc.
Panelists emphasized that the problem requires many resources: law enforcement, medical professionals, families, religious groups and educators.
"Everyone needs to contribute to battle this," DeLeon said.
Dr. Manriquez-Sanchez said many physicians still are not educated about the harm that even one opiate prescription can do to a patient. "It's complex," she said. "We have to assess how we're stigmatizing the whole situation."
All physicians should be using the Prescription Drug Monitoring Program before they prescribe a drug, she said. The program allows health care providers to see what drugs a patient has already been prescribed and by whom.
She added that patients, too, have a responsibility to manager their own care: "As a consumer of health, we should know what we are taking and not save parts of a prescription 'for a rainy day.' "
Dr. Manriquez-Sanchez is working with other Phoenix area colleges of medicine to add curriculum that will teach students about chronic pain and how to help patients deal with it.
"We need to re-educate the medical field about what's appropriate and what's not," she said.
Siete encouraged attendees to talk to their kids about addiction.
"The United States is five percent of the world's population, yet we consume 80 percent of the world's opioid supply," she said. "We can't be afraid of it. We have to be prepared to talk about it."
About the College
Founded in 2007, the University of Arizona College of Medicine – Phoenix inspires and trains exemplary physicians, scientists and leaders to optimize health and health care in Arizona and beyond. By cultivating collaborative research locally and globally, the college accelerates discovery in a number of critical areas — including cancer, stroke, traumatic brain injury and cardiovascular disease. Championed as a student-centric campus, the college has graduated more than 800 physicians, all of whom received exceptional training from nine clinical partners and more than 2,700 diverse faculty members. As the anchor to the Phoenix Bioscience Core, which is projected to have an economic impact of $3.1 billion by 2025, the college prides itself on engaging with the community, fostering education, inclusion, access and advocacy.