Class of 2019 Celebrated at Awards Luncheon
Students Recognized for Outstanding Achievements in Medical School
On May 6, the University of Arizona College of Medicine – Phoenix hosted a Senior Celebration Awards Luncheon to acknowledge the hard work and achievements of the Class of 2019. The 67 graduating students were joined by faculty members and department chairs to celebrate their successes.
"We are so excited for all of you to graduate in a few short hours," Susan Kaib, MD, associate dean of Student Affairs said. "Not long ago you were all first-year medical students. Today, we are celebrating some really exceptional individuals who, throughout these four years, demonstrated great honor."
The luncheon began with a reflection of medical school given by Leslie Appleton, MD, MPH. Dr. Appleton reminisced about the last four years of medical school and the unique bond she shared with her classmates.
"As we all venture forth in new adventures, I hope you all remember the roots that we built here together," Dr. Appleton said. "The foundation that we learned here makes us exceptional physicians and even better people. My wish for you is that these careers and friendships that we built here will fulfill all your wildest hopes and dreams. I can't wait to see all the success that lies ahead for each of you."
Department Awards
Department awards were chosen by the faculty to recognize one student from each of the required third-year clerkship departments.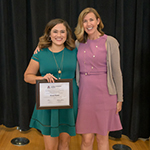 Family, Community and Preventive Medicine – Ryan Romo, MD
Presented by Kathleen Brite, MD, Director of the Family Community and Preventive Medicine Clerkship
"The recipient of the award is incredibly worthy of this honor," Dr. Brite said. "I'm very impressed with her passion for health care disparities and social equities and her passion for serving the underserved."
Dr. Romo was involved in many programs during her time at the college. She completed more than 200 hours of service learning and completed a Certificate of Distinction in Service and Community Health.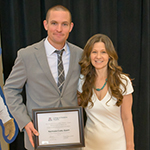 Internal Medicine – Nathan Goff, MD
Presented by Tina Younger, MD, Assistant Professor in Internal Medicine
Dr. Younger said that there were so many deserving students of this award, but Dr. Goff stood out because of his exceptional bedside manner, collaborative nature and care for his patients. Dr. Younger quoted one of the preceptors who said that Dr. Goff, "had a calming presence about him, and it's obvious he truly cares for his patients."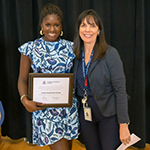 Obstetrics and Gynecology (OB/GYN) – Luce Kassi, MD
Presented by Maria Manriquez, MD, Interim Associate Dean for Clinical Curricular Affairs.
"When I first met this recipient, we were talking about an OB/GYN interest group," Dr. Manriquez said. "Her enthusiasm was apparent, she knew what she wanted to do for the rest of her life."
Dr. Manriquez added that she could not think of a better person who should go into OB/GYN than Dr. Kassi.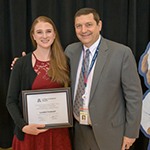 Pediatrics – Laura Hamant, MD
Presented by Jorge Masuello, Clinical Assistant Professor in Child Health
"The student selected to receive this award was enthusiastic, a self-directed learner, exhibited excellent medical knowledge, took time to read about patients and brought teaching points to rounds," Dr. Masuello said.
Dr. Masuello added that Dr. Hamant not only exhibited excellent bedside manners, but several families commended how well she did with their children.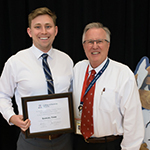 Psychiatry – Sam Timm, MD
Presented by James McLoone, MD, Chair of the Department of Psychiatry
"The student selected for this award is very deserving," Dr. McLoone said. "Sam performed well in all aspects of the clerkship, but he also has been a very valuable asset to several important medical associations, like the Arizona Medical Association."
Dr. Timm's focus has been on disparities of health care, which is a big issue for psychiatry patients. Arizona will be getting a new psychiatrist as Dr. Timm matched in psychiatry at Creighton University in Phoenix.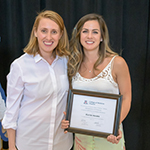 Surgery – Katie Hawk, MD
Presented by Natasha Keric, MD, Assistant Professor of Surgery
The surgery clerkship award is typically given to a student who performs well on the clinical rotations and a student who embodies all the enthusiasm and takes every opportunity to learn during their rotations.
Dr. Hawk is the first woman to receive this award. She was said to be the most prepared student on the surgical service and that her "capability rivaled that of a second-year resident."
Pillar Awards
Pillar Awards recognize students who have demonstrated exemplary performance in the areas that are considered pillars at the UA College of Medicine – Phoenix. These awards are chosen by the Senior Celebration Honors and Awards Committee.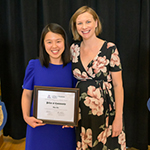 Community Award – Mei So, MD
Presented by Stephanie Briney, DO, Director of Service Learning in Academic Affairs
The student selected for this pillar exhibits unparalleled commitment to, and positive effect on, the community.
"Mei was chosen for her commitment and dedication to the community, which started prior to medical school," Dr. Briney said. "Mei began her career as a registered nurse, where she passionately provided care to some of Arizona's sickest patients."
Dr. Briney said that she knows Dr. So will carry these same strengths and skills with her to residency as she continues to motivate and inspire her fellow residents, listen to and care for her patients, as well as shape her medical practice to be one of selflessness and commitment to community.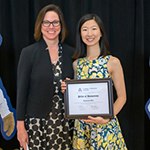 Humanism Award – Aishan Shi, MD
Presented by Dr. Kaib
The award is presented to the student who best demonstrates the ideals of outstanding compassion in the delivery of care, respect for patients, their families and health care colleagues, as well as demonstrated clinical excellence.
"The recipient of this award believes that her role in medicine goes beyond the treatment of patients, but also in promoting wellness and advocating for access to health care for all," Dr. Kaib said.
Dr. Kaib added that Dr. Shi logged more than 350 service hours. She was involved with numerous interest groups, was class representative for student government and was involved in numerous arts and humanities programs.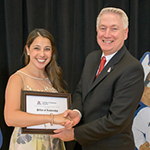 Leadership Award – Leslie Appleton, MD, MPH
Presented by Guy Reed, MD, MS, Dean
This honor is awarded to a student who has made a profound impact on and off campus, both as a medical student and community leader.
"Leslie has been a leader since she first stepped foot on campus," Dean Reed said. "People tell me in all that she does, Leslie leads with honesty, integrity and respect. Thank you for your service to our college and the community."
Dr. Appleton served as a first-year class representative. She was elected president of student government, served on the college admissions committee, was a member of the Gold Humanism Honor Society and had one of the highest number of volunteer hours out of the Class of 2019.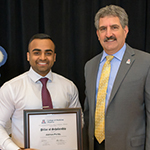 Scholarship Award – Arpan Patel, MD
Presented by Steven Lieberman, MD, Senior Associate Dean of Academic Affairs
The Pillar of Scholarship is given to a student who has demonstrated an outstanding academic performance during his or her medical school career.
Dr. Patel received the Young Investigators Award for his research that he presented at an international conference during medical school. His laboratory and clinical research during medical school was extensive and resulted in 25 publications, chapters, abstracts and oral presentations. He consistently scored high on exams and will be attending the Cleveland Clinic in Ohio for a residency in neurological surgery.
"Here are a few words of wisdom as you embark on your career," Dr. Lieberman said. "Most things in life doesn't take a neurosurgeon or brain surgeon, but next time that I run into something that does, I'm calling Dr. Patel."
Certificates of Distinction and Dual Degrees
Certificate of Distinction in Global Health
Presented by David Beyda, MD, Director of the Global Health Program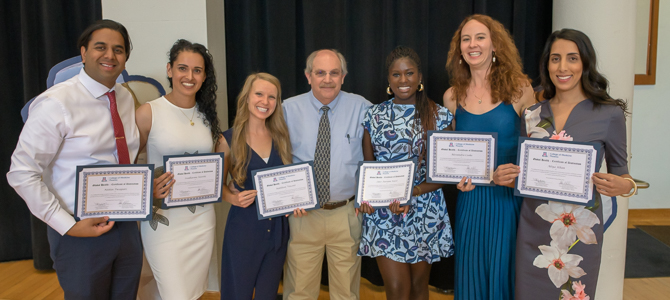 "One of the things that strikes me in global health is the risk that these students take traveling to an underprivileged country," Dr. Beyda said. "It is a bold and courageous move that you do in global health."
Pictured left to right:

Nithin Pusapati, MD.
Svadharma Keerthi, MD.
Kathleen Vincent, MD.
Luce Kassi, MD.
Alexandra Cooke, MD.
Aliya Khan, MD.
Certificate of Distinction in Service and Community Health
Presented by Stephanie Briney, DO, Director of Service Learning in Academic Affairs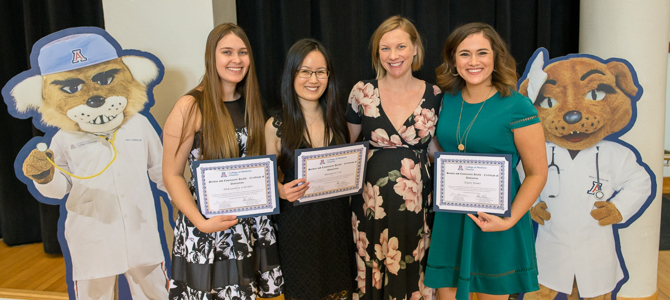 "I am extremely proud of each of these students," Dr. Briney said. "You did a fantastic job and were great role models to the community. Each of these students committed more than 200 hours on average to the community."
Pictured left to right:

Aleksandra Schriber, MD.
Margaret Liu, MD.
Ryan Romo, MD.
Certificate of Distinction in Rural Health
Presented by Jonathan Cartsonis, MD, Director of the Rural Health Professions Program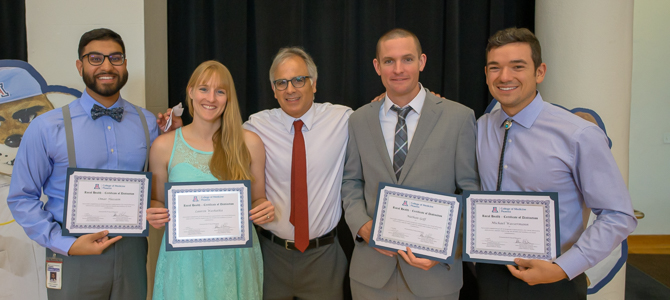 "The collection of students who participated in the Rural Certificate of Distinction this year, really helped create a supportive community," Dr. Cartsonis said. "They've been adaptable, collaborative and dedicated to their work."
Pictured left to right:

Omar Hussain, MD.
Lauren Washatka (Dominick), MD.
Nathan Goff, MD.
Michael Wassermann, MD.
Doctor of Medicine and Master of Public Health (MD/MPH)
Presented by Marvin Moe Bell, MD, MPH, Director of the MD/MPH Program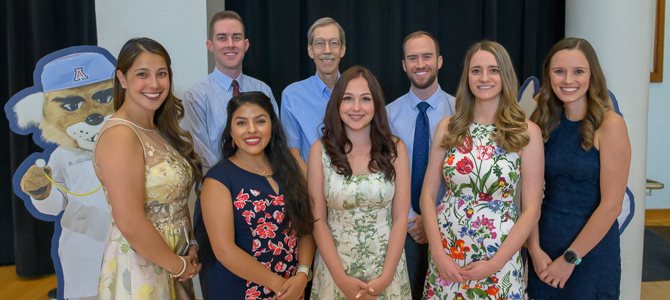 "I know everybody here has worked incredibly hard, but these students have done nine additional graduate level courses and a rigorous internship to get their public health degree," Dr. Bell said. "I can tell you that they all love medicine, public health, their patients and their communities."
Pictured left to right:

Leslie Appleton, MD, MPH.
Corey Edwards, MD (still working toward his MPH).
Mia Wright, MD, MPH.
Savanah McMahon, MD, MPH.
Tanner Heckle, MD, MPH.
Arianna Cook, MD, MPH.
Sherilyn Salefsky, MD, MPH.
Additional Awards
MICA Robert F. Crawford, MD, Scholastic Achievement Award
The Mutual Insurance Company of Arizona (MICA) awards the Robert F. Crawford, MD, Scholastic Achievement Award to scholastically exceptional medical students:
Arpan Patel, MD.
Alysa Baumann, MD.
Kathleen Vincent, MD.
The John Mattox, MD, Award
In recognition of academic excellence and dedication to women's issues in Obstetrics and Gynecology:
About the College
Founded in 2007, the University of Arizona College of Medicine – Phoenix inspires and trains exemplary physicians, scientists and leaders to optimize health and health care in Arizona and beyond. By cultivating collaborative research locally and globally, the college accelerates discovery in a number of critical areas — including cancer, stroke, traumatic brain injury and cardiovascular disease. Championed as a student-centric campus, the college has graduated 500 physicians, all of whom received exceptional training from nine clinical partners and more than 2,000 diverse faculty members. As the anchor to the Phoenix Biomedical Campus, which is projected to have an economic impact of $3.1 billion by 2025, the college prides itself on engaging with the community, fostering education, inclusion, access and advocacy.