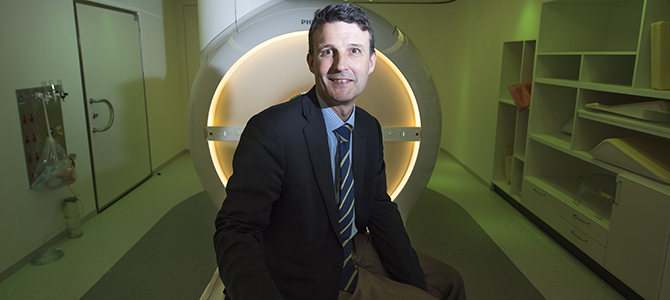 College Welcomes Renowned Fulbright Scholar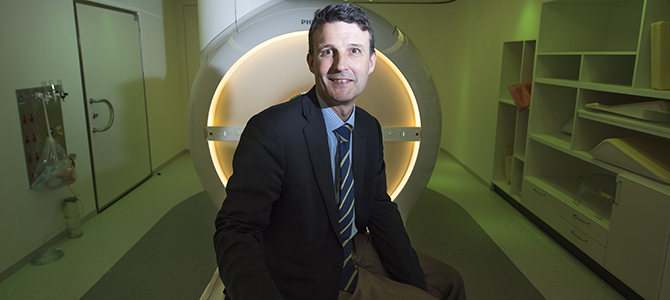 Fulbright Scholar to Collaborate with Cerebral Palsy Geneticists in Phoenix
The University of Arizona College of Medicine – Phoenix will welcome a Fulbright Scholar to campus this fall, whose mission is to better understand the neurology and genetics in people affected by cerebral palsy.
Renowned physician-scientist Michael Fahey, MD, an associate professor at Monash University's School of Clinical Sciences at Monash Health and head of the Paediatric Neurology Unit at Monash Children's Hospital in Melbourne, Australia, was awarded a prestigious Fulbright Scholarship to spend three months in the U.S., where he will work with Michael Kruer, MD, an associate professor of neurology and child health at the UA Phoenix medical school.
Dr. Fahey, who will be in the U.S. for three months beginning in November, will spend most of his time in Phoenix, but expects to travel to other health centers to build collaborations centered around cerebral palsy genomics.
"This is a massive opportunity for me to work closely with Dr. Kruer," Dr. Fahey said. "The cerebral palsy genomics world is really in its fledgling state and Dr. Kruer has been a leader in this field. I am looking forward to visiting him and his genomics lab and integrating the data from Australia into the genome database."
The flagship foreign exchange scholarship program of the U.S., the Fulbright Program increases binational research collaboration and the exchange of ideas. The scholarship will enable Dr. Fahey to characterize the genetic changes that lead to CP.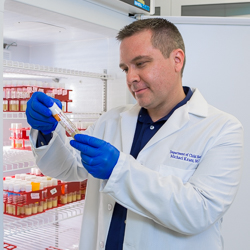 Dr. Fahey will work in Dr. Kruer's laboratory at the UA College of Medicine – Phoenix integrating phenomic, genomic and model organism data. He also will see patients with genetic forms of CP at Phoenix Children's Hospital with Dr. Kruer, who is director of the Cerebral Palsy and Pediatric Movement Disorders Program at Barrow Neurological Institute at Phoenix Children's Hospital.
Cerebral palsy is the most common disability in childhood collectively, affecting more than one million Americans and Australians. Recent studies indicate that about 30 percent of people who have CP have a genetic contribution to their condition.
"I am ultimately aiming to cure rather than treat those diseases," Dr. Fahey said. "In the emerging era of precision medicine, where therapies are increasingly tailored to an individual genomic variation, understanding this data will lead to personalized treatment."
Thanks to the Fulbright Scholarship, Dr. Fahey will work with Dr. Kruer to combine world-leading neuroimaging data from the Australian Commonwealth Scientific and Industrial Research Organization with contemporary genomic techniques to better understand complex neurological diseases.
"There is far more work to be done than any single research group can do in isolation," Dr. Kruer said. "International collaboration provides the opportunity to bring together expertise in clinical assessment, genomics, neuroimaging and model systems. This will allow us to begin to understand how CP develops at the molecular/cellular level during early neurodevelopment and follow the effects of disrupted brain development from single cell models all the way through living human beings in a bench-to-bedside-and-back manner."
About the College
Founded in 2007, the University of Arizona College of Medicine – Phoenix inspires and trains exemplary physicians, scientists and leaders to optimize health and health care in Arizona and beyond. By cultivating collaborative research locally and globally, the college accelerates discovery in a number of critical areas — including cancer, stroke, traumatic brain injury and cardiovascular disease. Championed as a student-centric campus, the college has graduated more than 800 physicians, all of whom received exceptional training from nine clinical partners and more than 2,700 diverse faculty members. As the anchor to the Phoenix Bioscience Core, which is projected to have an economic impact of $3.1 billion by 2025, the college prides itself on engaging with the community, fostering education, inclusion, access and advocacy.