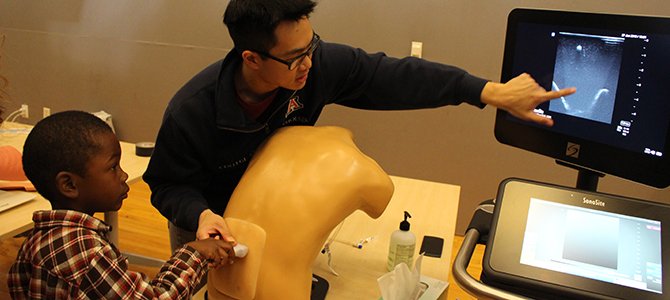 Connect2STEM Breaks Record, as UA Hosts Largest STEM Event in Phoenix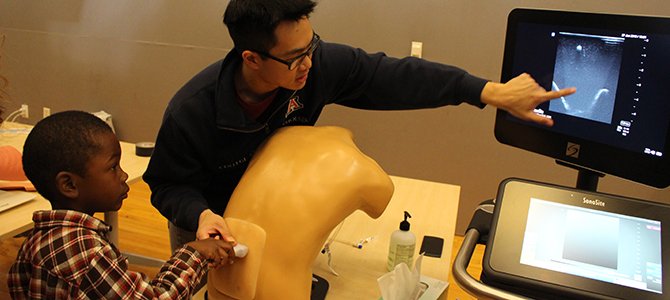 Wildcat Play Hospital, STEM Bus, Robotic Legos Thrilled Kids at Family Friendly Event
More than 7,500 children and parents enjoyed a day of science, technology, engineering, math and medical activities at the fourth annual Connect2STEM at the University of Arizona College of Medicine – Phoenix campus in downtown Phoenix.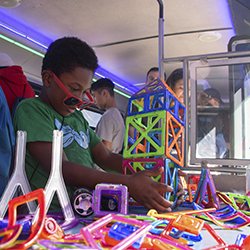 The event is organized by the medical school and Cox Communications.
As the kickoff for this year's Arizona SciTech Festival — a month-long campaign promoting science events across the state — the event was meant to inspire kids about STEM careers.
"The UA College of Medicine – Phoenix is committed to inspiring the next generation of physicians, researchers and STEM professionals," said Allison Otu, senior director of Marketing and Communications for the college. "We are the university for all of Arizona and were thrilled to see so many children exploring science on our campus."
"Today was incredible," said Matt Rawley, regional director for the STEM Revolution Bus, a traveling exhibit meant to excite students and teachers about science. "Just watching the kids walk through the bus, you could tell they loved being here. What an incredible opportunity for them and for our community."
Sheldon Caldwell-Meeks, senior community relations specialist for Cox Communications, said Cox was happy to partner with the University of Arizona College of Medicine – Phoenix for the fourth annual Connect2STEM. "At Cox, we strive to empower and educate the next generation of leaders in STEM. Today we succeeded in doing just that."
Rawley said events like Connect2STEM are important for the community.
"I'm passionate about schools, communities and organizations shifting toward STEM education," he said. "It's pretty clear that if you ask businesses what kind of skills they're looking for in their workers, they need problem-solvers, communicators and people who can work well with others. STEM is one of the best ways to enable kids to work on those skills."
Kids clustered around 200+ fun science activities, including foaming toothpaste experiments led by students from the UA College of Pharmacy; cow eye and pig heart dissections led by medical students from the College of Medicine – Phoenix; and exploding ping pong balls demonstrations by the STEM Revolution Bus. Participants played on a mini-computer keyboard powered by a half-dozen bananas at Intel Corp.'s exhibit. The youngest attendees took stuffed animals for checkups at the Wildcat Play Hospital, staffed by UA College of Nursing students.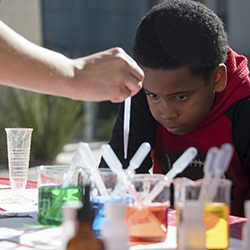 Other UA divisions and departments on hand were the Lunar and Planetary Laboratory; the Mel and Enid Zuckerman College of Public Health; the College of Architecture, Planning and Landscape Architecture; the Maricopa Agricultural Center; Maricopa County Cooperative Extension; the School of Information; the Health Sciences Library; the UA Police Department; the Eller College of Management; and Arizona Athletics.
The daylong event at the Phoenix Biomedical Campus showcased exhibitors from all three of the state's universities, including the Northern Arizona University Athletic Training, Physical Therapy and Occupational Therapy programs, as well as Arizona State University's Graduate Association of Interdisciplinary Neuroscience Students.
Professionals from businesses and local community organizations also took part, including the Challenger Space Center of Arizona; Children's Museum of Phoenix; the Musical Instrument Museum; and the Phoenix Zoo Arizona Center for Nature Conservation. Several local high schools were represented with their robotics displays, including Paradise Valley, Westwood and Mountain Ridge. Luke Air Force Base brought a flight simulator and a fighter pilot.
Kristi Boles from Phoenix brought her 10- and 11-year-old daughters to the event, where their favorite activity was learning about virtual reality.
"They definitely have an interest in science," Boles said. "They found out about Connect2STEM at school and said they wanted to go. It's important that they have a broad exposure to science and medicine. They loved exploring all the interactive exhibits."
Yoseline Felix heard about the event from her friend and came with her husband and 5-year-old son.
"These kind of free events are hard to come by," she said. "This was our first time, and my son loved all of the hands-on activities. It was a great learning opportunity for him outside school."
About the College
Founded in 2007, the University of Arizona College of Medicine – Phoenix inspires and trains exemplary physicians, scientists and leaders to optimize health and health care in Arizona and beyond. By cultivating collaborative research locally and globally, the college accelerates discovery in a number of critical areas — including cancer, stroke, traumatic brain injury and cardiovascular disease. Championed as a student-centric campus, the college has graduated 669 physicians, all of whom received exceptional training from nine clinical partners and more than 2,600 diverse faculty members. As the anchor to the Phoenix Bioscience Core, which is projected to have an economic impact of $3.1 billion by 2025, the college prides itself on engaging with the community, fostering education, inclusion, access and advocacy.