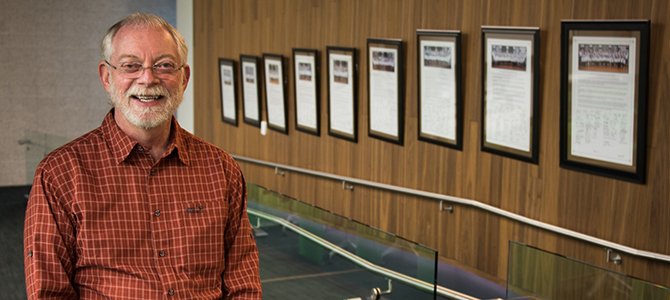 Dr. Silverman Retires After Two Decades of Commitment to UA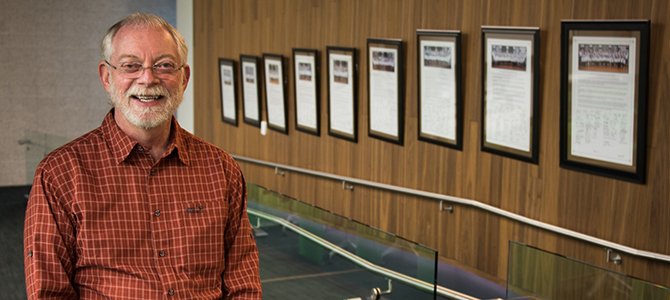 After Retirement, He'll Continue to Lead the Clinical Informatics Fellowship
One of the most beloved faculty members at the University of Arizona College of Medicine – Phoenix had an official sendoff Jan. 9 during a campus-wide potluck.
Modest and self-effacing, Howard Silverman, MD, had a zeal for teaching and bringing out the humanism in his students and colleagues, who described him as nurturing, brilliant, uplifting, inspirational and kind.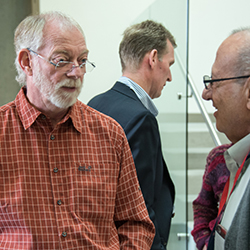 Even during the party in his honor, Dr. Silverman remained the humble professor who many admire.
"This job has allowed me to do the work of my heart, not just the work of my head," he said. "There are not many work environments that allow you to do that."
Dr. Silverman, who has worked for the university for more than 20 years and is one of the founding fathers of the College of Medicine – Phoenix, officially retired from the university in September 2016. He continues to teach and direct the Clinical Informatics Fellowship sponsored by Banner Health.
"Working at the College of Medicine – Phoenix has made me feel more optimistic about the future of health care," he said. "My most meaningful accomplishments in my career have been as a medical educator."
Dr. Silverman's career at the University began in 1995, when he began working part-time as a clinical professor in his role as program director for the Family Practice Residency at Good Samaritan Regional Medical Center. He joined UA full-time in 2003, when he was appointed education director for the Program in Integrative Medicine and clinical professor of Family and Community Medicine. In 2005, his passion for start-ups and education led him to the UA College of Medicine – Phoenix, where he helped establish the first allopathic medical school in Phoenix.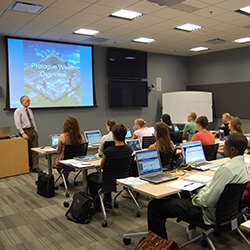 "I'm a start-up and turn-around guy," Dr. Silverman said. "This college was a big one for me. I always wanted to work at a medical school, and there wasn't one in Phoenix except osteopathic schools. I used to go see (former vice dean Dr. Jacqueline) Chadwick every year and I'd say, 'Now?' and she'd say, 'Not yet,' and in late 2004 I said, 'Now?' and she said, 'Yes, it's time.'"
For more than a year, Dr. Silverman along with other founding faculty members and staff meticulously crafted a curriculum prior to the arrival of students.
When the moment came, and 24 students arrived at the newly established medical school, Dr. Silverman served as director for the Prologue block during the first week of classes. He was among the first to officially welcome the students to the new college, one of his favorite career memories.
"When the first group of students sat in their seats on the first day of classes, the back of the room was lined with faculty," Dr. Silverman said. "We were all so excited to have the students here. At that moment, it was like having a new baby arrive."
Dr. Silverman played many roles at the College, including special assistant to the vice dean for Administration, associate dean for Information Resources and Educational Technology, block director, Biomedical Informatics theme director, admission committee member, Doctoring and Anatomy faculty and his recent roles as professor and founding chair of the Department of Biomedical Informatics.
Khaleel Hussaini, PhD, former research assistant professor in Biomedical Informatics at the college, said he has known Dr. Silverman as a colleague, supervisor and a mentor.
"He has dedicated his career to nurturing the Biomedical Informatics program and ensuring young clinicians are adapting to rapid changes in the health care system," he said. "Dr. Silverman is very talented, excellent at building relationships and, most importantly, a very kind and a humble human being."
Dr. Silverman started the ACGME-accredited Clinical Informatics Subspecialty Fellowship at the college (the fifth in the nation), combining his passions of technology and health care. The program allows two fellows per year to enter the two-year program with the first cohort graduating in the summer of 2017.
"For me, it was really the greatest possible ending to a wonderful career," Dr. Silverman said.
The new specialty created by the American Board of Medical Specialties now has 24 ACGME-accredited programs. Currently, the college's program has a full complement of four fellows.
Second-year Clinical Informatics Fellows Umar Iqbal, MD, and Jed Maddela, MD, called Dr. Silverman not only a brilliant physician and professor, but the "quintessential humanist who never fails to uplift your spirit."
In an email, they recalled the following story: "Nearing the end of our Clinical Informatics Fellowship Workshop Development panel presentation at the 2016 Annual American Medical Informatics Association National Symposium, we were left with a closing remark that truly touched our hearts. It gave meaning to what we have done every day for the last year and a half. In front of a national audience, Dr. Silverman stood and applauded the fellows for 'being the first cohort of pioneers that are blazing the trail for these new informatics fellowships.' He thanked us 'for putting their trust and careers into the Clinical Informatics fellowship program faculty's hands.'"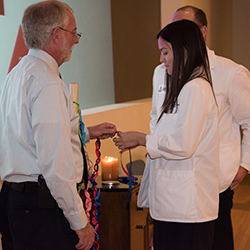 Dr. Silverman recognized early in his medical teaching career that the advent of technology created the potential for the erosion of the human relationship between clinician and patient. He felt it was important to find ways to nourish the humanism and altruism that tends to decline during a student's third-year and beyond, which led to him creating the Gold Humanism Honor Society (GHHS) chapter at the college.
After his retirement, Susan Kaib, MD, FAAFP, took over this role, but Dr. Silverman has taken on a new role as chair-elect of the National GHHS Advisory Council, a six-year commitment.
Dr. Kaib said that stepping into the role of advisor for the College of Medicine – Phoenix GHHS chapter has been a humbling experience.
"I am so glad he continues to be involved on the GHHS National Advisory Council and the board of Trustees of the Arnold P. Gold Foundation and as the 2017 GHHS National Conference Program Chair," said Dr. Kaib, interim associate dean, Student Affairs. "Of anyone I've met, he truly embodies the full spectrum of GHHS: compassionate, collaborative and scientifically excellent care. I feel fortunate to call him a friend and mentor."
Dr. Silverman's fascination with technology began in 1963 as a junior high school student taking computer courses. By the time he was 17, Dr. Silverman and his friends had received a grant to build a functioning ruby laser, only six years after the first experimental laser was built. His dedication to the useful and appropriate integration of technology and medicine continued to grow throughout his career.
Dr. Silverman received a bachelor of science from Purdue University with a double major in computer science and German, graduating in three years. He continued his education at Massachusetts Institute of Technology, where he earned a master of science in computer science and electrical engineering. While in the graduate program at MIT, Dr. Silverman worked in the artificial intelligence lab on a grant looking at health and medical decision-making, which allowed him to follow doctors around for a year or two. After graduating from MIT, Dr. Silverman realized medical school was the next step in his career.
"I saw it as a calling," Dr. Silverman said. "I saw this profession as a way that I could help people and be part of a community that I could contribute to."
He never saw his path to medicine leading to him becoming an educator, something he claims to have been terrible at earlier in his career. That contradicts what most former students say about him, though.
"Dr. Silverman embodies humanism in medicine," said Sarah Coles, MD, alumna from the Class of 2011. "His passionate dedication to healing and teaching has been an inspiration for me and one of the reasons I pursued family medicine as my career."
Dr. Silverman's interest in teaching started when he and his wife taught childbirth classes together. As a resident in family medicine at Good Samaritan Regional Medical Center in Phoenix, Dr. Silverman had delivered more than 300 babies. His wife, who has a bachelor's degree in education and a master's degree in public health with a focus on community health education, had never seen a baby born.
"After each class, everyone would gather around and ask her questions," Dr. Silverman said. "I'd be sitting there saying, 'Hey, 300 babies delivered right here and she has never seen a delivery.' I said to her, 'I don't understand why people ask you the questions?' and she said 'Well, I love you, but you're a terrible teacher.' I realized she was right."
To enhance his teaching skills, Dr. Silverman found faculty development training opportunities, including the Family Medicine Faculty Development Fellowship at the College of Medicine in Tucson in 1987, the Dean's Teaching Scholar Program in Tucson in 1993 and a Faculty Development Fellowship at the National Institute for Program Director Development in 1996.
Friends and colleagues who would like to wish Dr. Silverman well in his semi-retirement can do so here.
Topics
About the College
Founded in 2007, the University of Arizona College of Medicine – Phoenix inspires and trains exemplary physicians, scientists and leaders to optimize health and health care in Arizona and beyond. By cultivating collaborative research locally and globally, the college accelerates discovery in a number of critical areas — including cancer, stroke, traumatic brain injury and cardiovascular disease. Championed as a student-centric campus, the college has graduated 593 physicians, all of whom received exceptional training from nine clinical partners and more than 2,400 diverse faculty members. As the anchor to the Phoenix Biomedical Campus, which is projected to have an economic impact of $3.1 billion by 2025, the college prides itself on engaging with the community, fostering education, inclusion, access and advocacy.