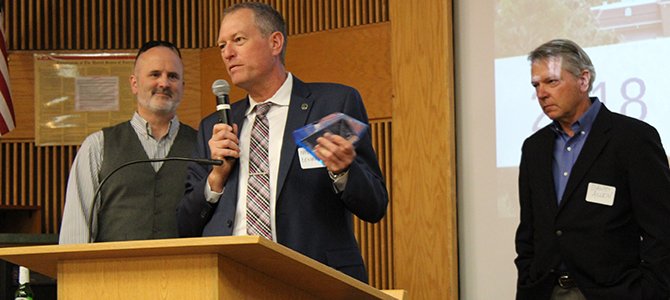 Frederic Zenhausern Receives Inventor of the Year Award from Tech Launch Arizona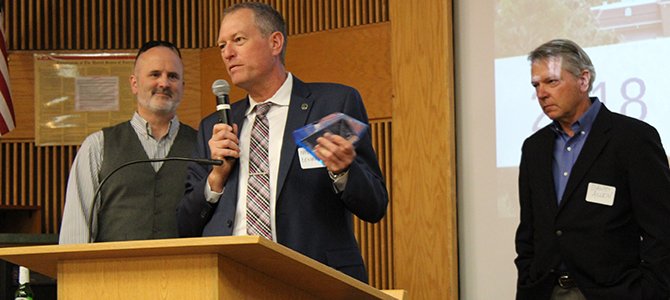 Tech Launch Arizona Honors Frederic Zenhausern, PhD, MBA, with Inventor of the Year Award
Frederic Zenhausern, PhD, MBA, professor and director of the Center for Applied NanoBioscience and Medicine at the University of Arizona College of Medicine – Phoenix, was named Inventor of the Year, Life Sciences, at Tech Launch Arizona's (TLA) fifth annual I-Squared Expo and Awards event March 19.
Dr. Zenhausern has worked closely with Tech Launch Arizona on protecting and commercializing the Human-Microbial Cross-Talk model, or HuMiX, which was designed and prototyped at the Center. The organ-on-a-chip technology allows researchers to analyze the complex interactions between human cells and the microbial ecosystems of the gut.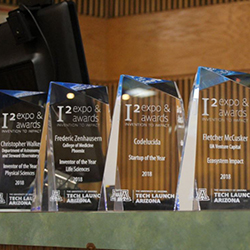 The I-Squared Expo honored those whose work impacts the quality of life for Arizona residents and people throughout the world through research, invention, collaboration and commercialization.
UA President Robert C. Robbins said the University's future impact depends on turning discoveries into products, processes and goods that will benefit all and help drive Arizona's economy. "I am so impressed with all the award winners this year and grateful for the work they are doing," he said.
Tech Launch Arizona works with the University of Arizona community, connecting its members with those involved in innovation in order to commercialize inventions stemming from research. Ultimately, the goal is to bring new technologies to the world where they can spawn startups, create jobs and improve our quality of life.
"We created this event in 2013 as part of our original vision for TLA," said TLA Assistant Vice President Doug Hockstad. "As we build this ecosystem, it's essential that we highlight the work going on at UA and recognize the contributions of our greatest champions to not only honor that work, but to help inspire others to engage in the mission of bringing the benefits of UA research to the public."
The event included a showcase of several startups, inventions and inventors from UA. Other award winners were Christopher Walker, Inventor of the Year, Physical Sciences; Startup of the Year, Codelucida; Campus Collaborator of the Year, Roger Miesfeld, Department of Chemistry and Biochemistry, UA College of Science; Ecosystem Impact, Fletcher McCusker; and the inaugural David N. Allen Award, David Allen.
About the College
Founded in 2007, the University of Arizona College of Medicine – Phoenix inspires and trains exemplary physicians, scientists and leaders to optimize health and health care in Arizona and beyond. By cultivating collaborative research locally and globally, the college accelerates discovery in a number of critical areas — including cancer, stroke, traumatic brain injury and cardiovascular disease. Championed as a student-centric campus, the college has graduated 593 physicians, all of whom received exceptional training from nine clinical partners and more than 2,400 diverse faculty members. As the anchor to the Phoenix Biomedical Campus, which is projected to have an economic impact of $3.1 billion by 2025, the college prides itself on engaging with the community, fostering education, inclusion, access and advocacy.