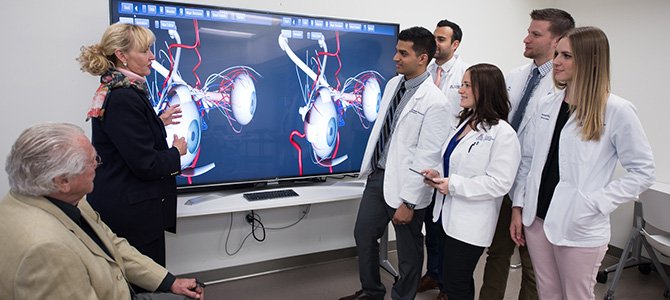 Generosity of Donor Brings Virtual Reality Ophthalmic Trainer to College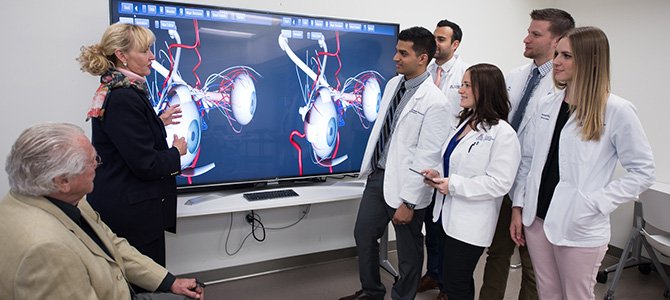 Donald Miles, MD, and Mandi Conway, MD, are Driving Forces in Incorporating Ophthalmology into Medical School Curriculum
A state-of-the-art, virtual reality ophthalmic training simulator will be incorporated into the curriculum at the University of Arizona College of Medicine – Phoenix, thanks to the generosity of a longtime Arizona ophthalmologist.
Donald Miles, MD, and his wife, Judith, were among the first donors to the College in 2007, and they have continued to support the University of Arizona and its Phoenix medical school.
Dr. Miles and Mandi Conway, MD, interim chair of the Department of Ophthamology, recently showed the new 3-D trainer to students interested in pursuing a specialty in ophthalmology.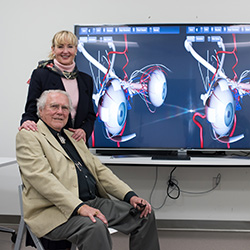 ​EyeSim by EON Reality in Irvine, Calif., uses 3-D technology to show ocular structures, blood vessels, nerves and orbital bones. Animations can show blood flow to the eye and muscle functions, and students can be tested on identifying pupillary, cranial nerves and ocular muscle dysfunction. An interactive eye examination feature allows students to look at pupils, ocular motility and cranial nerve dysfunction in a virtual patient. It also can show students how brain damage impacts a patient's vision. The simulator gives students hands-on experience in conducting eye exams using technology, instead of practicing on a cadaver.
Dr. Conway credited former interim Dean Kenneth S. Ramos, MD, PhD, for giving the green light to bring the trainer to the College. "He said, 'This is how kids learn'," she noted of her meeting with Dr. Ramos. She is working with Rebecca Fisher, PhD, Anatomy Course director, and Marci Moffitt, MD, MPH, Doctoring Curriculum director, to incorporate the training into first-year studies.
"My hope as chair is to get ophthalmology into the curriculum, so that UA College of Medicine – Phoenix graduates know how to look at a red eye, whether it's in an Emergency Department or a Primary Care doctor's office, and know the right way to treat it."
She said when most people have an eye problem, they go to urgent care or an emergency department. Many hospitals do not have an ophthalmologist on staff, and the emergency physician assumes the patient has pink eye. She hopes the trainer will give College of Medicine students awareness of other options for treating someone who comes in with a problem with their eyes.
"For me, it's the visualization of the pathology of the eye," she said. "You can see everything."
Dr. Conway and her husband, Gholam Peyman, MD, who invented LASIK eye surgery, practice at Arizona Retinal Specialists in Sun City West. Dr. Conway specializes in treating macular degeneration, diabetic retinopathy, inflammatory eye diseases, retinal detachment and retinal surgery. They joined the UA College of Medicine – Tucson in 2006 as professors of ophthalmology and vision science and later moved to Phoenix to set up their practice.
Dr. Miles, who graduated from the University of Iowa College of Medicine and trained at Harvard and Baylor universities, has had a lifelong interest in education and volunteering.
"Technology has made advanced eye surgeries accessible and successful," said Dr. Miles, a clinical professor at the College and the most senior ophthalmologist in Phoenix.
Dr. Miles co-founded the Arizona Foundation for the Eye in 1998. In 2002, the Foundation started the Arizona Telemedicine Ophthalmic Program in collaboration with the University of Arizona Telemedicine Program and the Mountain Park Community Health Center to provide diabetic retinopathy screening using digital transmission of eye images.
About the College
Founded in 2007, the University of Arizona College of Medicine – Phoenix inspires and trains exemplary physicians, scientists and leaders to optimize health and health care in Arizona and beyond. By cultivating collaborative research locally and globally, the college accelerates discovery in a number of critical areas — including cancer, stroke, traumatic brain injury and cardiovascular disease. Championed as a student-centric campus, the college has graduated 669 physicians, all of whom received exceptional training from nine clinical partners and more than 2,600 diverse faculty members. As the anchor to the Phoenix Bioscience Core, which is projected to have an economic impact of $3.1 billion by 2025, the college prides itself on engaging with the community, fostering education, inclusion, access and advocacy.