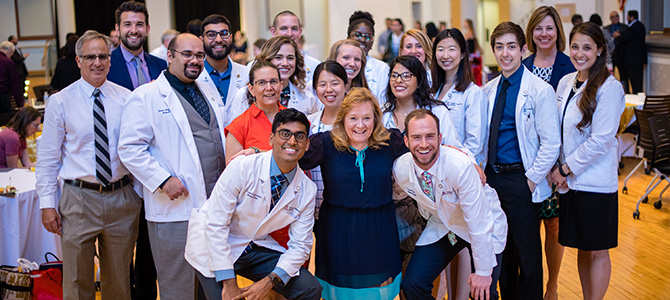 Gold Humanism Honor Society Inducts Newest Members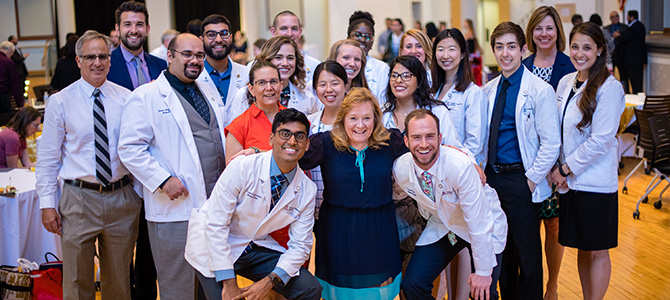 Thirteen Third-Year Medical Students and Three Faculty Inducted into the Gold Humanism Honor Society
Empathy, compassion, respect, altruism and integrity — each quality is emblematic of the 13 third-year medical students chosen as this year's inductees into the University of Arizona College of Medicine – Phoenix chapter of the Gold Humanism Honor Society (GHHS).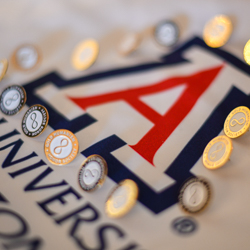 A sincere congratulations to these exemplars of compassionate care:
Leslie Appleton.
Issam Awwad.
Nathan Goff.
Tanner Heckle.
Omar Hussain.
Luce Kassi.
Roshan Panchanathan.
Ryan Romo.
Farmin Samareh Jahani.
Aishan Shi.
Mei So.
Kathleen Vincent.
Mia Wright.
On April 25, they were recognized for their dedication to those extraordinary humanistic attributes — as well as for their service as role models, mentors and leaders to their fellow medical students and to the community — at a ceremony on the college's campus.
Cheryl O'Malley, MD, interim vice dean of Academic Affairs, opened the ceremony by describing the honor each of the students was about to receive: "Being inducted into the Gold Humanism Honor Society is an acknowledgement from fellow students and faculty that these individuals have shown their commitment to the society's values." Primary to those values is their pledge to be lifelong advocates for empathetic patient care, preserving relationships with patients that are built upon mutual respect.
This notion was furthered by fourth-year student Daniel Kim, who defined what it means to be a physician. "Service is not a relationship between an expert and a problem. It's a human relationship, a work of the heart and soul." Kim, who was inducted into the society with the Class of 2018, helped introduce the essence of the ceremony with the rest of last year's inductees.
Shakaib Rehman, MD, site director of the Phoenix Veterans Affairs Health Care System and a professor in the departments of Medicine and Biomedical Informatics, served as the keynote speaker. His presentation was entitled, "How to be extremely successful." Success as he defined it is about much more than the material; it is about the impact they could have by truly being present for their patients. "I hope you will remember the power of one, no matter what the situation is," he said. Though their loved ones will inevitably be there for them, it is the physician who truly has the power to help patients to heal and move forward.
Dr. Rehman's thought-provoking, and often funny, assessment on the crucial role of compassion was proceeded by the inductees from the Class of 2019 introducing each other and reflecting on why their classmate deserved the prestigious honor. The admiration they held for one another was just another reflection of the types of physicians each will undoubtedly become.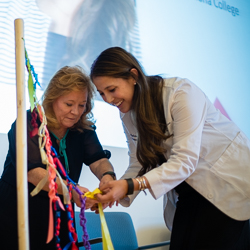 Leslie Appleton was introduced by her classmate Kathleen Vincent, who built upon Dr. Rehman's message about the power of one. "She's (Leslie) going to listen when no one else is listening; she's not going to gloss over the details, and she will follow up. That is truly the heart of compassion," she said.
After the ceremony, Appleton stressed how much it had meant to have been nominated for the society by her fellow medical students. "It's the biggest honor to be nominated and elected to the society by peers that I've looked up to throughout medical school," she said. It was an honor that she knew would drive her to treat all of her future patients with the utmost respect.
Prior to leaving the stage, each student received their GHHS pin and also added a knot to their distinctive class ribbon attached to the Staff of Asclepius. The staff — created by Howard Silverman, MD, MS, to commemorate the chapter's inaugural class — is a well-known symbol of healing. It honors Asclepius, the son of Apollo and a practitioner of medicine. Each knot that is added lengthens the respective chains, stretching the bond between the members of the society and symbolizing power, strength and compassion.
In addition, the students offered the prestigious Gold Humanism Honor Society award to three faculty members. These faculty exemplify the same humanistic qualities listed above and have served as role models for the students in this regard:
Jonathan Cartsonis, MD.
Rebecca Fisher, PhD.
Natasha Keric, MD.
The College of Medicine – Phoenix GHHS chapter was established in 2010 and each year, the top 10-15 percent of the third-year medical students are identified by their peers as exemplars of humanism in medicine.
The Gold Humanism Honor Society has 30,000 members in training and practice. Members have a responsibility to model, support and advocate for compassionate, patient-centered care throughout their careers. The creation of a GHHS chapter signifies to the medical community that an institution places high value on the interpersonal skills and attitudes that are essential for the highest level of patient care.
Article by: Tom Kelly
About the College
Founded in 2007, the University of Arizona College of Medicine – Phoenix inspires and trains exemplary physicians, scientists and leaders to optimize health and health care in Arizona and beyond. By cultivating collaborative research locally and globally, the college accelerates discovery in a number of critical areas — including cancer, stroke, traumatic brain injury and cardiovascular disease. Championed as a student-centric campus, the college has graduated more than 800 physicians, all of whom received exceptional training from nine clinical partners and more than 2,700 diverse faculty members. As the anchor to the Phoenix Bioscience Core, which is projected to have an economic impact of $3.1 billion by 2025, the college prides itself on engaging with the community, fostering education, inclusion, access and advocacy.