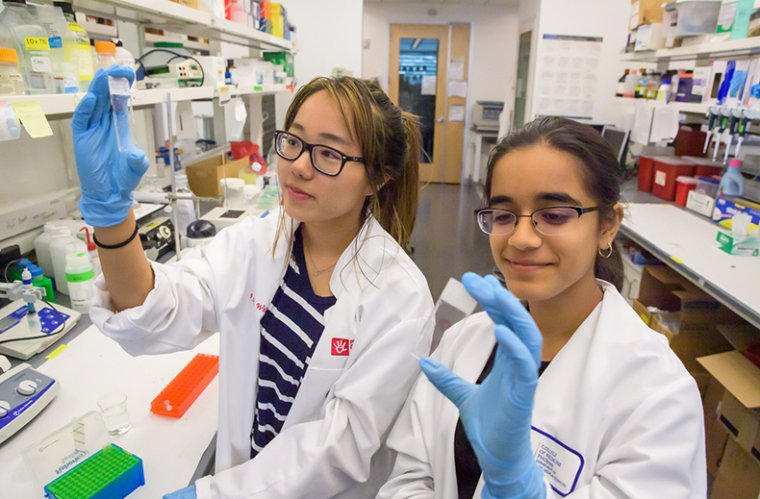 High School Students Spend Summer Researching in UA Phoenix Lab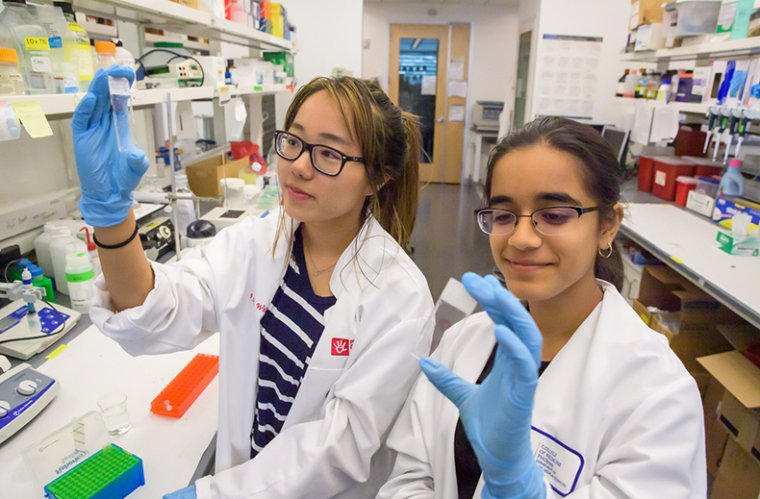 Researchers Mentor High School Students as Part of a Six-Week Internship
Twelve Arizona high school students are spending six weeks of their summer vacation conducting research as part of an internship program at the University of Arizona College of Medicine – Phoenix.  
The internship, offered through the college's Department of Basic Medical Sciences, provides students with hands-on research experience, mentorship and allows them to explore future careers in research and medicine.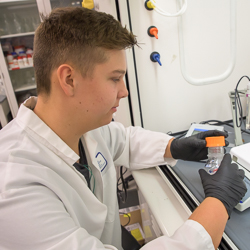 "The best part is to have results that mean something," said Matt Lyons, a junior at Flagstaff High School who wants to be a radiologist. "It's completely different from the work I've done in high school, because we can actually see how this research is applied in the real world." 
Lyons was assigned to the laboratory of Rayna Gonzales, PhD, where he is investigating mechanisms associated with ischemic injury in human brain vascular smooth muscle cells. The lab is studying a new class of drugs that targets their own immune and vascular system to help stroke patients regain brain function.
Minseo Kim, a senior at Desert Vista High School in Ahwatukee, is studying fibrosis in the lab of Taben Hale, PhD, a UA scientist who is doing innovative research in preventing heart failure.
"I wanted to join this internship program because it offered real, hands-on experience, rather than reading about it in the textbooks," she said. "In classes, we have protocols to follow, but we really don't know what they are for. Here, we have a specific study and we get to learn and understand why we are testing for these things."
Kim is working with Poulami Soni, a senior from Basis Phoenix.
"This experience has given me a better perspective of everything that research entails," Soni said. "It has been helpful talking and learning from everyone involved with the program, and I now think research is a career possibility."
Motivated high school students from diverse backgrounds are selected to participate, and each are assigned a UA College of Medicine – Phoenix faculty member. Students interact with graduate students, postdoctoral associates and faculty at the downtown Phoenix medical school campus. The program is free for students, who are from high schools throughout Arizona.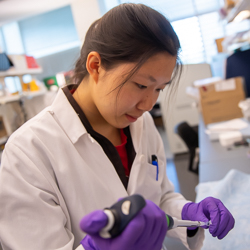 "Programs like this provide students with valuable experience performing hypothesis-based research," Dr. Hale said.
Now in the program's fifth year, faculty have mentored a total of 56 high school students. It was started by a committee of four Basic Medical Sciences faculty members: Amelia Gallitano, MD, PhD; Shalini Sharma, PhD; Dr. Hale, and Dr. Gonzales.
"It's exciting to have the privilege to help guide and train the next generation of future research scientists and health care providers," said Dr. Gonzales, who directs the program.
Lulu Bi, a senior from Basis Scottsdale, is in the laboratory of Karen Hastings, MD, PhD, studying t-cells and skin cancer. Bi said her favorite part has been learning from Dr. Hastings and the various researchers in the lab.
"I've always been interested in research," Bi said. "I thought this experience would be the perfect intensive opportunity to find out more about research work."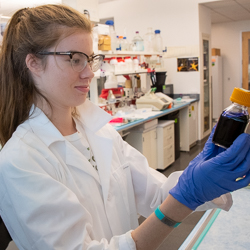 Erin Hill, a senior at Xavier College Preparatory High School in Phoenix, was assigned to Qiang Liu, MD, PhD, and is studying genetic factors of neurodegenerative and neurodevelopmental disorders.
"I'm interested in neuroscience and neurology," Hill said. "It has been a great experience getting to see what groundbreaking research is happening. You read about it on the news all the time, but a high school student rarely gets to be a part of it."
The program concludes with a mini-symposium where students deliver poster presentations describing their research.
About the College
Founded in 2007, the University of Arizona College of Medicine – Phoenix inspires and trains exemplary physicians, scientists and leaders to optimize health and health care in Arizona and beyond. By cultivating collaborative research locally and globally, the college accelerates discovery in a number of critical areas — including cancer, stroke, traumatic brain injury and cardiovascular disease. Championed as a student-centric campus, the college has graduated 593 physicians, all of whom received exceptional training from nine clinical partners and more than 2,400 diverse faculty members. As the anchor to the Phoenix Biomedical Campus, which is projected to have an economic impact of $3.1 billion by 2025, the college prides itself on engaging with the community, fostering education, inclusion, access and advocacy.