Laerdal Medical Donates Lifesaving Training Products to CPR University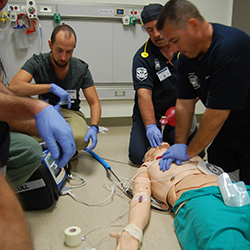 ​For the past three years, the University of Arizona College of Medicine – Phoenix has hosted medical professionals from around the world for CPR University, a high-intensity training course that covers the latest science and practice for saving lives from cardiac arrest.
The program has received a $50,000 donation of state-of-the art mannequins from Laerdal Medical to train more health care professionals and lay rescuers, which could save more lives.
Laerdal, a world-leader in the production of training, educational and therapy products for lifesaving emergency medical care, has donated four high-fidelity, full-body mannequins and simulation pads. The company also has donated 24 state-of-the-art half-body mannequins for use in community CPR training through the Arizona Emergency Medicine Research Center (AEMRC).
"We are extremely grateful to Laerdal for their worldwide leadership and this wonderful donation," said Ben Bobrow, MD, CPR University lead and distinguished professor of Emergency Medicine at the University of Arizona College of Medicine – Phoenix. "Laerdal is an international leader in resuscitation training and dissemination, and their support and design of life-saving programs has had tremendous impact worldwide."
CPR University is a hands-on resuscitation course held at the college's state-of-the art high-fidelity simulation center and is designed to help improve survival from out-of-hospital cardiac arrest (OHCA), a leading cause of death worldwide. Conducted by the AEMRC, the training breaks down key components of High Performance CPR for medical providers and trains them in realistic scenario-based environments. The benefit of CPRU has been demonstrated as evidenced by Emergency Medical Service agencies across Arizona more than tripling survival in the past decade.
"We have shown that it is feasible to deliver High Performance CPR in the prehospital setting, and it is one of the interventions that makes the most life-saving impact," said Daniel Spaite, MD, professor and endowed Virginia Piper chair of Emergency Medicine.
Sam Keim, MD, professor and chair of the Department of Emergency Medicine and director of the statewide Arizona Emergency Medicine Research Center (AEMRC) added,  "We have worked closely with Laerdal Medical with tremendous success in Arizona, across the U.S., and now even in China and India to improve CPR quality and save more lives."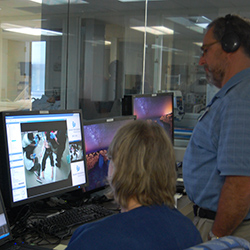 "Laerdal is privileged to support the CPR University and the AEMRC," said Andrew Kristopik, senior manager of health care programs at Laerdal Medical. "Improving resuscitation outcomes is core to Laerdal's mission of helping save lives and is part of our heritage in improving resuscitation training, which goes back to our introduction of the first Resusci Anne CPR mannequin in 1960. Today, more than 300 million people have been trained in CPR — most of them using Resusci Anne. This training has led to an estimated 300 million people being saved."
Media Contact:
Teresa Joseph
Phone: 602-827-2657
About the College
Founded in 2007, the University of Arizona College of Medicine – Phoenix inspires and trains exemplary physicians, scientists and leaders to optimize health and health care in Arizona and beyond. By cultivating collaborative research locally and globally, the college accelerates discovery in a number of critical areas — including cancer, stroke, traumatic brain injury and cardiovascular disease. Championed as a student-centric campus, the college has graduated 593 physicians, all of whom received exceptional training from nine clinical partners and more than 2,400 diverse faculty members. As the anchor to the Phoenix Biomedical Campus, which is projected to have an economic impact of $3.1 billion by 2025, the college prides itself on engaging with the community, fostering education, inclusion, access and advocacy.